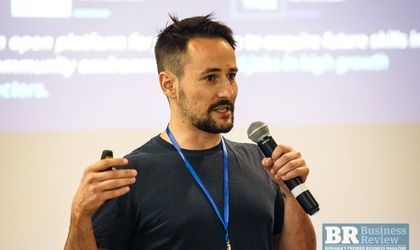 Using valuable start-up experience, Adam Dorfman will launch 'If, When, Then,' a platform designed to be an open platform for job seekers to acquire future skills in a community environment and create new employment outcomes in high valued sectors. Adam Dorfman was a speaker on BR's Focus on Blockchain conference in July and he made the case for platform business models as one of the best use cases for blockchain.
Started with USD 50,000, coming from own funds and angel investments, 'If, When, Then' will see its beta version hit the market within three months. Already counting on 80 partners, the start-up is seeking additional funding from a future ICO marketing campaign.
In developing 'If, When, Then', Dorfman used his experience with growing a startup that helped Amazon sellers increase their reputation with a lot of success. "I got to see how the startup grew and how different decisions were impacting Amazon's ranking system. So I became motivated to learn everything about platform economics. That is the moment when I discovered 'platform economics' and also when I understood the lexicon," Dorfman explains. "So I started to brainstorm my own platform business model to see how I could bring efficient to other market places," he says, adding that "Facebook, Apple, Microsoft, Google and Amazon are the five biggest companies in the US and they are platform businesses."
That is also the moment when he started conceptualising the concept of 'If, When, Then.' "A lot of people start with the technology part – but that doesn't have any value if someone is not going to use it," he says of blockchain. "Instead, we started with the market research part followed by business development. We did market research 6 months and put a business development team in 3 months," he says.
According to Dorfman, the name is based on cutting-age behavioral science. " When goal setting, people who use 'if, when, then' are two to three times more likely to reach their goals," he explains. "Thinking in this model sets you up for meeting smaller goals more often," he says. "That was the beginning of the search engine mechanism that you are going to use in the IOS based blockchain project," Dorfman says.
The platform will help job seekers acquire skills in a community environment in high-growth sectors. "To begin with, a platform business model is successful when there is a fragmented ecosystem, there is a huge knowledge gap, so in a lack of reputation mechanisms. And so our competitive ranking system is going to identify the top training schools in high growth sectors in Southern and Eastern Europe and connect them to global employers," he explains.
According to Dorfman, the main advantages of blockchain are the disentermediation of the data layer in a centralized platform. "Instead of a centralized company controlling the data, we're going to be able to make them more transparent, so that stakeholders on our platform are able to se our performance," he says. "That will allow us to make more market efficient decisions from the data insights that it can provide," he says.
The ultimate goal of the platform is to create more employment opportunities in the informal education communities. "Everybody is trying to fix the tradition educational system. By introducing a ranking system we can increase the ranking system to give the schools access to the global employers in high growth sectors," the entrepreneur argues. "By decentralising the performance of our platform, and by defining our purpose  and by making our company's performance decentralised and visible to token holders we can empower them to behave in such a way that increase this performance outcome," he says.