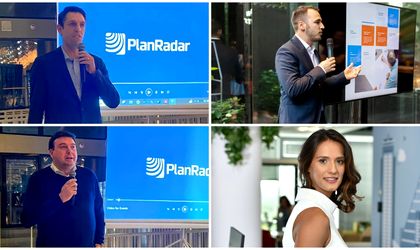 PlanRadar, the award-winning digital SaaS solution for constructions and real estate projects that operates across the globe in over 65 markets with more than 120,000 professional users, met partners and clients in the first networking event held in Romania this year.
Present at the event, Tudor Popp (Founding Partner REC Impuls and Hotspot Skyhub), Roxana Achim (Head of Design and Project Management TEILOR) and Catalin Podgoreanu (Partner, Operations Director la Brisk Group) detailed how did technology help them to build sustainably,  fairly and to expand their business.
"We started using PlanRadar many years ago as we had a very big project that I believe we couldnt' have done it proper without using the technology that helped us tracking and collecting real time information. We had to evaluate, refurbish and consolidate 52 buildings and the amount of data was huge. PlanRadar helped us to complete the project in time and to focus ourselves towards others like launching Hotspot Skyhub last year" declares Tudor Popp.
—
Roxana Achim, TEILOR: "Plan Radar was a familiar concept to me, since its launch in Austria.  Later on, I used the platform in previous job challenges in Romania quite successfully. Teilor is a business that has registered a beautiful expansion both locally and internationally over the last 4 years. Upon joining Teilor Team, the need for a structured solution within my department became the obvious next step, in order to continue developing and maintaining the image of the brand in all our 65 stores across Europe. PlanRadar helped develop a 2 function solution into the platform, specifically tailored to fit TEILOR requirements.  We were really happy that the integration for both maintenance and construction monitoring took only a couple of weeks. We appreciate the possibility to use licenses for both tasks within same project, as well as the customization that enables us to collect information from an unlimited amount of users into PlanRadar, using a very user friendly interface, while subsequently assigning tasks to multiple vendors".
—
Catalin Podgoreanu, Brisk Group: "We have been using PlanRadar since 2018 for project management, reporting, procurement, due diligence, fit outs. We work easier, we communicate efficienly and we save money. We are very thrilled about the new function, Documents Management. It really helps us to overview the works and the flow instant on the phone."
The digital solution PlanRadar connects all project stakeholders and provides real-time access to valuable project data, enabling teams to increase quality, cut costs and realise work faster. PlanRadar users increase efficiency and profitability by connecting in real time the whole team – from project managers to teams on-site, subcontractors and stakeholders.
Benefiting from a $69 million funding round co-led by Insight Partners and Quadrille Capital in 2022, PlanRadar extended the size of the business and constantly upgraded and improved the product.
The company increased size team by 80% while opening new offices around the globe with a total of 18 offices in Australia, Brazil, Croatia, Czech Republic, France, Germany, Hungary, Italy, Poland, Romania, Singapore, Slovakia, Spain, Switzerland, UAE, USA, UK.
In parallel, PlanRadar team developed the product further (introducing PlanRadar Connect function, QR codes, mobile improvements, Schedules) and reached a number of more than 9 billion interactions with the software, 14 milion uploaded images, 8 milion opened tickets, download/upload traffic data of 20 terabyte per month.
As PlanRadar solution is compatible with a wide range of applications in various industries (from quality control in construction to facility management in the automotive sector or retail), PlanRadar received The most innovative IT product on the market (Top Builder, Poland),  Retail Tech Provider Award (CEE Retail Award, Innovation in the retail category), EY Entrepreneur of the Year Award 2022 (Start-ups category).
Bojan Petkovic: "Innovation is in our company's DNA. We are constantly upgrading and introducing forward-thinking practices that have shaped the face of the construction industry. When we created PlanRadar, the main idea was to enable quality monitoring of flaws in projects and their documenting. Although primarily meant for the construction sector, PlanRadar quickly found application in other fields as well, such as facility management and production industry, practically, in all spheres which require the creation of quality documentation in the field."
Present on more than 1.000 construction sites in Romania, PlanRadar doubled the size of the team in 2022, relocated its offices to Hotspot Skyhub and closed deals with REC Immpuls/Hotspot Workhub, Brisk, Alesonor, TEILOR for a series of projects ensuring fire compliance, technical assistance and commissioning of buildings, technical due diligence, project management. 
PlanRadar is working worldwide with clients such as: PrimeKapital, Brisk Group, Rec Immpuls, Lemon Design, Teilor, Alesonor, Blue Projects, Conart, Strabag, Porr, CBRE, Cushman&Wakefield, Bog'Art, Siemens, Colliers, Union Investment, Allianz, Signa, Arcadis, Art Invest, Equans, Spie, WSP, ARUP, PORR etc
Available in 21 languages, PlanRadar can be used across all iOS, Windows and Android devices.