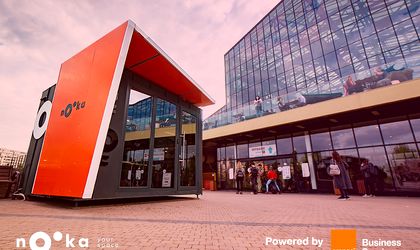 Nooka Space, the start-up that pioneered the concept of smart proximity office spaces, signed a strategic partnership with Orange Business Services on the Romanian market for IoT, hardware and software integrated solutions.
Through this partnership, Nooka Space will offer Orange Business Services clients the option to use the Nooka proximity offices as a part of the solutions offered by Orange's business division in Romania.
Orange Business Services will, in turn, equip Nooka Space with a solution that includes unlimited 4G+ internet connectivity, wireless, Machine to Machine (M2M) IoT connectivity as well as with an ecosystem made up of an intelligent real-time monitoring and control module, to manage energy consumption and environmental parameters securely & remotely. The space control integrated intelligent sollution is being supplied by Orange, in partnership with MobileControl, through the Active Building Control platform, developed within OrangeFab.
"We are always open to supporting companies that transform entire business segments through innovation. Not only does Nooka Space harness the workspace landscape potential through this new solution, but it also offers intelligent and flexible office spaces that shape the future way of work, through high-end technology. We are honoured to be joining Nooka Space right at the start of their activity in Romania and we look forward to welcoming more flexibility and productivity for day-to-day professional activities." – mentioned Florin Popa, Orange Romania Business to Business Director.
The Nooka Space concept surfaced during the COVID-19 pandemic and it introduces a new way of work, that combines the advantages of working from home with the deep-rooted facilities of classic offices, by creating a network of proximity offices that are high-tech, secure and decked-out, that can be placed anywhere and rented using an app, at an accessible price point.
"Signing the partnership with Orange Business Services is an important step in our journey to bring the Nooka Space smart proximity office solution closer to those who need it. We firmly believe that the future of the office landscape will be built using Nooka Space offices placed in public or private spaces, in order to attune to the acute accessibility, efficiency, security and mobility needs. We are confident that alongside Orange Business Services we will build this future that opens the gate to flexible and intelligent workspaces." – said Sergiu Băbășan, Nooka Space România Country Manager.
Nooka Space offers compact "plug and play" office spaces, equipped with more than 15 smart sensors, that allow users a simple handling, through the app. The access, heating, air quality monitoring, lighting, payments, and bookings can be intelligently managed, while the air purifier and the UV-C lights are specially designed to disinfect the space and maintain the highest sanitary conditions. Nooka Spaces are equipped with high-end furnishing and accessories, with adjustable electrical desks, ergonomic seats and video-call kits.
Nooka Space can be rented, acquired or shared, thus contributing to the implementation of the flexible proximity space concept, which allows users to manage and customize their own work conditions. The transport and fitting of the Nooka offices is free within the EU, while the latter is done in a maximum of two hours. The complete offer can be accessed on the Nooka Space website.