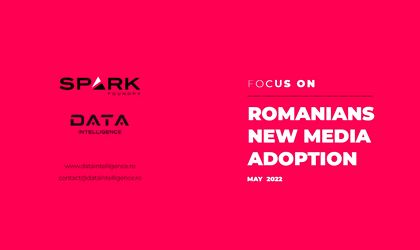 According to the New Media Adoption study, conducted by the Data Intelligence team of media agency Spark Foundry, part of Publicis Groupe Romania, among the main digital activities of Romanians are online payments and shopping, accessing online platforms and social networks, and also accessing news publications.
By Romanita Oprea
Compared to the last year, however, with the exception of online games and visiting online museums or art galleries, all the other digital activities have seen a decrease or remained consistent with previous data. On the other hand, more and more Romanians discover the concept of "Metaverse", while young people (Generation Z – 18-24 years old) turn their attention to the news broadcast on TV channels, stating that they have more confidence in this kind of news than in those online. The new study is part of Focus On: New Media Usage, a series of reports that follow the evolution of media consumption behaviors, based on quantitative studies.
"The slightly downward trend in online activities leads to the conclusion that we are in a plateau period in terms of digital. We can see the first signs of "digital life fatigue" after two years in which virtual connectivity has played a key role in continuing their professional and personal lives for most people. In fact, the only type of content that grows in preferences – live streaming – is very closely related to "real life". Whether we're talking about parties, festivals or travel, people want TODAY, again, to experience real life. For "TOMORROW", however, we expect the novelty and innovation that the Metaverse brings to produce a new leap in people's interest in the digital environment", said Valeriu Galani, Managing Director Spark Foundry.
—
"The plethora of information about recent events (pandemic, war, crisis…) has made people select their sources more carefully. So we are seeing a return to TV, a positive trend in the percentage of those who prefer to get their information from TV rather than read it online, having more confidence in the content here. This trend is visible even among Generation Z (18-24 years). More than half say they have spent more time in front of the TV in the last year, trusting TV news more than online news", explained Mădălina Bâdea, Head of Data Insights Spark Foundry.
Reasons Romanians use social media
According to the new study, social media platforms remain the best way to keep in touch with friends and spend free time, or relax.
However, a significant decrease compared to previous waves in terms of reasons for using social media was observed for filling leisure time and relaxing, as well as searching for products/brands to purchase, finding out about new trends and the activity of favourite brands, and following celebrity or influencer pages.
Regarding the use of platforms by people of different age segments, it is observed that people over 45 use social media mainly to keep in touch with friends, to search for brands or products they want to buy, and for diversity of content. At the same time, the younger generations are showing a more active behavior in social media: they publish images or video content, they seek to discover new trends, they follow the pages of influencers and celebrities and they are constantly looking for a more diverse content.
Favorite social media platforms
Facebook, Instagram and TikTok remain the favorite social media platforms of Romanians, while Twitter has seen the biggest increase in the last year in their top preferences, being used mainly by people over the age of 55. There is also a clear preference of users for different platforms depending on their generation. Thus, Facebook is used especially by a more mature audience (over 55 years old), while people in the 18-34 age segment prefer Instagram, TikTok and Pinterest, and Generation Z (18-24 years old) choose Snapchat, Reddit and, more recently, Tinder and Clubhouse. This Generation Z is so addicted to social networking that often they look for Reddit accounts for sale or Clubhouse accounts for sale to get instant success.
Favorite online content
Images and videos remain the preferred types of content on social media, being, however, in a downward trend compared to September 2021, but above the data recorded in May 2021. Only live streaming shows a positive development compared to both benchmarks.
At the same time, images remain the most popular type of content in social media for all age groups, with the exception of Generation Z (18-24 years old), who prefer videos, Instagram stories, 360 images and videos, live broadcasts and GIFs. Articles and audio files are still more appreciated by people over the age of 45, while text content is preferred by those over the age of 55.
Instagram activities
Instagram continues to be considered by Romanians as the platform where they can follow the posts of friends and acquaintances.
With the exception of some activities such as follow & post Instagram stories and use & watch IGTV, which had a constant evolution, all other activities recorded a negative trend compared to the previous wave.
Posting, following stories, participating in giveaway actions, reacting to surveys/questions, and using different filters are activities done on Instagram mainly by people between the ages of 18 and 34. Unlike them, users over 55 have a more passive behavior on Instagram and use the platform mainly to follow friends' posts.
TikTok and influencers campaigns
Although the TikTok user base is slightly smaller than in September 2021, the awareness of influencer campaigns is somewhat higher both in terms of share and absolute figures. The most distinctive and memorable influencer campaigns were related to music and gastronomy, while the only ones with positive evolution from the previous wave were related to parenting. In addition, the biggest decrease was recorded by influencer campaigns related to personal / professional development, cultural activities and beauty & fashion.
Metaverse
According to the new study, 47% of Romanian internet users in urban areas have heard of the concept of "Metaverse", and 57% of them have declared themselves interested and open to try new experiences in Metaverse.
Audio content platforms
The awareness of social media platforms with audio-only content is experiencing a significant decrease in this wave compared to the wave of September 2021, being very close to the results from the same period last year (May 2021).
Their users prefer them especially because they can have privacy, while having access to useful and interesting information.
The evolution of live streaming platforms and content
The most used platforms for live streaming remain YouTube and Facebook, although a significant decrease in the number of users can be observed for Facebook compared to September 2021. At the same time, Zoom is starting to be perceived as a promising platform for live streaming.
In terms of topics covered, with the exception of entertainment and tourism content, all other live streaming actions have registered a negative trend, most likely due to the end of the pandemic period.
E-commerce through social media
Although on a downward trend, 7 out of 10 urban internet users continue to find the social media tagging feature useful, as they can see the price directly without accessing the online store, or it takes them directly to the online store page.
Gaming
Games downloaded to smartphones remain the preferred gaming activity for urban internet users, although it has seen a significant decline since both September 2021 and May 2021. Thus, the only activity with a slight increase in recent months is the purchase of video games via online shops.
Generation Z remain the main users who prefer online games played with their friends. They also ranked first in terms of playing online games with people they don't know, closely followed by those aged 25-34. The latter are also the main purchasers of video games from online shops, unlike users over 55 who played or downloaded free video games.
When it comes to the determining factors in choosing games, most urban internet users already have a type of game they prefer and are looking for, take into account recommendations from friends, colleagues and acquaintances, are more oriented towards popular games and take into account game graphics or design. Thus, people over 55 are mainly interested in their favorite types of games and continue to look for free video games, 18-24 year old are guided by friends' recommendations and the game's story, while 25-34 year old look for popular games as well as games based on their graphics and design, and it is important to them that a game can be customized and also to get a recommendation from a gaming influencer.
However, in this wave there is a significant decrease in the importance of customization, free-to-play, and in-game storytelling.
Online communities
Urban internet users continue to join online communities to connect and interact with like-minded or similar people. On the other hand, however, we see a negative trend for all activities within online communities (reactions, shares, interactions, participation in competitions and events, etc).
Local targeting and proximity events
Although there is a slight decrease in the percentage of people who use the functions of the applications to find events in the proximity, the number of those who use the local targeting function and find it useful is increasing.
In recent months, events announced by brands on social media have attracted the attention of mainly people over 55, while the people most receptive to events in the vicinity and also those considering attending are people in the 18-24 and 35-44 age segments.
Media consumption together with the family
65% of respondents watch TV with their family and 56% of them feel that this activity, like watching movies online, has brought them closer to family members. There was a significant increase in this wave for those for whom TV is the main source of news, as it is the media channel they trust most.
Generation Z (18-24) also feel they have spent more time in front of the TV in the last year, trusting TV news more than online news.
Methodology
The study was conducted by the Data Intelligence team of media agency Spark Foundry, through online interviews, on a sample of 803 people, female and male, over 18 years old, internet users, from urban areas, between May 13-19, 2022.