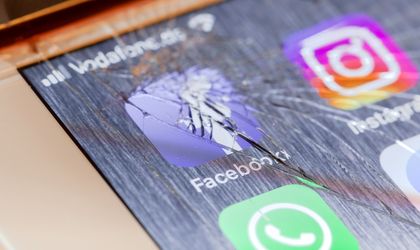 Tens of thousands of users started reporting issues with social media platforms Facebook, Instagram and Whatsapp (which are also owned by Facebook), starting with 18:43 (GMT +3) this evening, reports DownDectector.com.
Update: After more than 6 hours into the breakdown, Facebook services, including Instagram and WhatsApp, started working again in various parts of the world. Experts estimate that the breakdown may cost the global economy an estimate of nearly USD 1 billion, the Independent reports.
"To the huge community of people and businesses around the world who depend on us: we're sorry. We've been working hard to restore access to our apps and services and are happy to report they are coming back online now. Thank you for bearing with us." Facebook posted on Twitter at 1:30 AM on Tuesday.
All Facebook services and apps are now working properly, as the company released a statement into what went wrong:
"This disruption to network traffic had a cascading effect on the way our data centers communicate, bringing our services to a halt.
The underlying cause of this outage also impacted many of the internal tools and systems we use in our day-to-day operations, complicating our attempts to quickly diagnose and resolve the problem." The company said in an official blog post.
"We're aware that some people are having trouble accessing our apps and products. We're working to get things back to normal as quickly as possible, and we apologize for any inconvenience." Facebook shared on Twitter at 19:22.
Third-party apps that are using Facebook credentials for log-in are also experiencing issues.
In various places of the world, users have reported that other platforms are down as well, including T-Mobile, At&T, US Cellular, Amazon Web Services, or Google, among others. This is quite a serious threat to users' data because such failures in applications can lead to leaks. In this case, we suggest that you install additional protection in the form of a VPN Chrome extension on your laptop or phone. It will not help to be safe from breakdowns, but it will ensure the cybersecurity of your devices and personal information.
DownDetector is calling it a "widespread outage" and "rarely seen global outage," with almost 130,000 reports for Facebook, 100,000 for Instagram, and 36,000 for WhatsApp in the US alone.
In Romania, the same website counts around 11,000 reports for the same 3 social media platforms owned by Facebook.
Worldwide, tens of millions of users might be affected, experts have claimed.
Update – Breakdown comes amidst new whistleblower accusations against Facebook
The breakdown follows a black start of the month for Facebook, as on Sunday former employee Frances Haugen (a data scientist) revealed herself on America's 60 Minutes as the whistleblower who leaked "tens of thousands of pages of Facebook internal research" which showed that the social media giant only blocks about five percent of hate speech and less than one percent of violence and incitement and the company was aware that its products are fueling hate and harming young users` mental health. Haugen is set to testify in front of the US Congress.
Since Facebook has acquired Instagram and Whatsapp, many have been clamoring that the social media giant to be broken up, and the recent outage and leaks only fueled those voices, showing that when a company holds so much influence over billions of users worldwide, tech decentralization and breaking up monopolies might not be such a bad idea after all.
At the time of the outage, Antigone Davis, Director, Global Head of Safety at Facebook, was live on CNBC, defending the company against the recent whistleblower accusations, reports theverge.com. A cyberattack is unlikely, two anonymous Facebook security team members cited by the NY Times have stated.
An outage of this dimension occurring on the interconnected apps of a social media giant such as Facebook is extremely rare, security experts show. According to them, the most plausible scenario is a configuration error that left directions to Facebook servers unavailable, the result of an internal mistake, but sabotage by an insider could also be a possibility.
In the shutdown, Facebook employees also lost access to their own tools and platforms.
Facebook is no stranger to breakdowns, suffering two just this year, in April and July, "due to a network configuration issue," but according to CNBC, this is the worst outage since 2008, when the social media platform was out for almost one day. Back Facebook had only 80 million users, but nowadays the behemoth boasts 3 billion users, so depending on how you measure it, the current outage might actually surpass the 2008 one in its scope.
NYT Tech Reporter Sheera Frenkel reported that Facebook employees were unable to enter buildings this morning because their access badges were not working.
Was just on phone with someone who works for FB who described employees unable to enter buildings this morning to begin to evaluate extent of outage because their badges weren't working to access doors.

— Sheera Frenkel (@sheeraf) October 4, 2021
Update 1
Currently, there is no confirmation on the source of the outage. The error message on Facebook's webpage `DNS_PROBE_FINISHED_NXDOMAIN` indicates a Domain Name System (DNS) error. A similar outage happened at cloud company Akamai Technologies Inc in July this year, when it took down multiple websites.
Cyber Security Expert Brian Krebs confirmed that Facebook's DNS records were taken off from the global routing tables.
"Confirmed: The DNS records that tell systems how to find http://Facebook.com or http://Instagram.com got withdrawn this morning from the global routing tables. Can you imagine working at FB right now, when your email no longer works & all your internal FB-based tools fail?" Krebs tweeted. "We don't know why this change was made. It could well have been the result of an internal, system wide change or update that went awry. It's all speculation at this point why. FB alone is in control over its DNS records." He continued.
Mike Schroepfer, Facebook's CTO, also went on to Twitter to offer his "*sincere* apologies, in a post very similar to Facebook's own statement, but without providing any new information.
"*Sincere* apologies to everyone impacted by outages of Facebook powered services right now. We are experiencing networking issues and teams are working as fast as possible to debug and restore as fast as possible," he tweeted.
Facebook shares fell 5.5% in afternoon trading on Monday, according to Reuters.
The company's shares had already taken a big hit as the trading began on Monday, amidst the whistleblowing controversy, but the fall continued as the global outage occurred.
Update: Everyone is on Twitter
"Instagram and friends are having a little bit of a hard time right now, and you may be having issues using them. Bear with us, we're on it! #instagramdown" Tweeted the official @InstagramComms Twitter handle, while the #instagramdown and #facebookdown hashtags quickly started trending on Twitter, with users mocking the outage with countless memes.
Twitter right now as WhatsApp, Instagram and Facebook crash #instagramdown pic.twitter.com/eFfpjEHjHd

— مکی فرحان (@Makki_Farhan39) October 4, 2021
As Facebook rival Twitter has seen a surge in traffic, WhatsApp rival Signal also boasted about a significant rise in new sign-ups for its encrypted messaging platform. Twitter itself went on to gloat over its rivals, tweeting a short but clear "hello literally everyone"
hello literally everyone

— Twitter (@Twitter) October 4, 2021

***developing story, check back later
Photo: Dreamstime