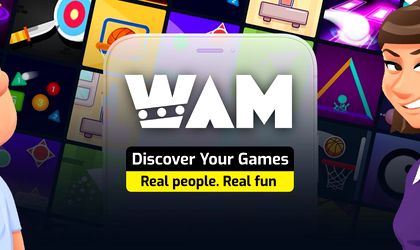 WAM.app is the first mobile gaming social network where users can compete in public or private hyper casual gaming tournaments. Since the launch of the platform on February 25, 2021, WAM.app surged past one million users globally, and their number continues to grow at an accelerated pace especially on the Asian and South American markets.
WAM.app is the brainchild of Digitap, a Romanian company founded by visionary game dev and business veterans Daniel Tamas and Alex Rus, whose mission is to let people socialize through gameplay.
One of the first investors in WAM.app is Voicu Oprean, the founder of AROBS, the software company from Cluj.
The idea to create WAM.app was based on two factors: social distancing and growth in the niche of hyper casual games. The pandemic keeps us at home, and the need for social interaction increases, so we spend more time online interacting with friends and colleagues. Those who could not call themselves "players" a year ago now have at least 2-3 game apps installed on their phones, which they use regularly to reduce stress or kill the time.
"Usually, users are jumping from one game to another, which makes them spend time searching for and downloading new games. The Digitap team has identified this particularity of the hypercasuals and came up with an idea to ​​create a single platform where all top titles would be available. Now, you don't have to keep many game apps on your phone, you can have them all in WAM.app ", explained Daniel Tamaș, CEO of Digitap.
The gaming market is constantly expanding, and WAM.app comes to fill the gap in current social networks, where competitiveness is not skill-based.