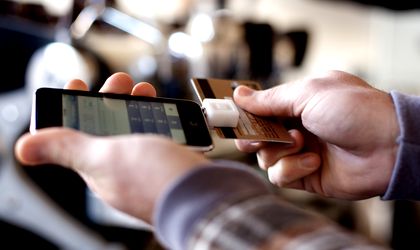 High numbers of Romanians are eager to use new technologies and adapt rapidly to the latest trends on the international market. Specialists duly expect mobile banking to gain in importance, driven in part by the increase in smartphone sales.
Anda Sebesi
Despite the increased uptake of online financial services at international level, Romania has one of the lowest penetration rates of internet banking services in CEE – 4 percent, compared with 42 percent in the Czech Republic, 34 percent in Austria and 13 percent in Croatia, according to a study conducted by GfK last year. Researchers found that only Bulgaria lags behind, on 2 percent. Out of 4.5 activities conducted online, 4.2 come under the category of information, communication and entertainment, while few users access the internet for transactions, the same study revealed. Only 4 percent of the 9.6 million Romanians who use banks check their account through internet banking while 3 percent make transactions online. Another 3 percent (compared with 9 percent in Austria) make online payments with cards while 1.6 percent (against 29 percent in Austria) use a mobile phone to do so. The same study found that only 3 percent have bought a financial service through internet.
But e-banking (electronic banking) is still a niche with significant potential on the local market. That's why many lenders have pursued this segment, trying to offer a wide range of services for those customers eager to use them. For example, Intesa Sanpaolo Bank, ING, OTP, BRD-Groupe Societe Generale, RBS, BCR, UniCredit Tiriac Bank, Millenium , Raiffeisen Bank and Banca Transilvania are among the players that have introduced service-banking in their portfolios.
According to the lender's representatives, Intesa Sanpaolo Bank has offered e-banking services since its entrance on the local market. It has proved a tool that eased customer-bank relations and reduced the operational costs for both parties, they add.
Meanwhile, back in 2006 ING Bank launched ING Home'Bank, a service that enabled individuals and companies to make banking operations without cash 24/7 through a computer with an internet connection. "Since then our bank has strengthened its position on this market segment by launching constantly innovative services," says Stefan Radu, director of product management and direct channels at ING Retail Banking. The lender also recently launched a version of its Home'Bank service adapted to mobile phones and a facility for payment of utility bills through the device. The new Home'Bank application for smartphones was developed for mobile phones that have an iOS or Android operation system and an autofocus camera. "Romanian consumers are very keen to discover and experiment with the latest technologies. We can say that they are a curious and quite choosy audience. Plus, the mobile banking service segment is encouraged by the increased sales of smartphones both abroad and on the local market," says Radu.
BRD-Groupe Societe Generale is another player that has put a focus on e-banking. In July last year it decided to complete its portfolio of products and services with the addition of the e-CLICK package, designed mainly for internet users. "BRD brings a new form of innovation on the banking market and responds to the demand of our customers. The e-CLICK package includes all the online products and services that are in our portfolio: the BRD ePayment card attached to a RON current account, internet banking (BRD-Net) and phone banking (Vocalis)," says Philippe Lelarge, the executive director of the strategy and marketing department at BRD.
Meanwhile, Silviu Florea, director of digital banking at OTP Bank Romania, says that in order to increase the satisfaction of its customers through remotely accessing banking services and minimizing the operational costs, the lender launched e-banking services in April 2006. "Subsequently, in order to complete its range of services, OTP activated SMS alerts in 2007," adds Florea.
Elsewhere, RBS Romania premiered PhonePin code, a method of automatic authentication for customers who use RBS Phone Banking, in August 2011. "The introduction of PhonePin code is meant to make phone transactions a frequent, safe and rapid practice for our customers. We thought of an easier way for our customers to exchange currencies, make bank transfers, check balances and see their transaction history," says Marijana Vasilescu, communication and marketing manager at RBS Romania. Last year the lender also launched RBS SMS Alerts, a service specialized in real-time monitoring of debit and additional cards.
Recently Raiffeisen Bank announced that the volume of bills paid last year through the lender was EUR 382 million, more than 50 percent of which was paid through electronic channels set up by the bank – online banking, Smart Mobile, ATM, direct debit and Multicash. "2011 marked a change in customers' preference for using electronic channels to pay their bills. It is the result of our promotional campaigns and constant investments in launching new and modern services that enable our customers to save time and interact more easily with the bank," says Florentina Stilu, director of the cash management department at Raiffeisen Bank Romania.
One notable move came from BCR, which in February launched 24 Banking, a service the lender describes as the most innovative educational platform for individuals and the first interactive educational game in Romania in the area of electronic payment services. "The scenario of the game is based on the fact that we all often find ourselves in need of information about our bank accounts or to make daily payments. The goal is to use an electronic payment service – an animated internet banking platform created especially to familiarize users with the 24banking.ro functionalities," says Bogdan Marin, executive director of retail channels at BCR.
Last but not least, the internet banking service provided by Banca Transilvania, BT24, had 200,000 customers in November last year, an increase of about 40 percent compared with the same period of 2010. The lender's representatives stated last year that the bank intended at least 20 percent of the BT24 internet banking customers to access BT24 mobile banking by the end of 2012. Almost 50 percent of BT internet banking customers are between 30 and 40 years old, about 30 percent are between 20 and 30 and 20 percent between 40 and 50. Some 80 percent of its customers are individuals and the remaining 20 percent companies. The most active customers come from Bucharest, Cluj-Napoca, Timisoara, Oradea, Constanta and Iasi.
How has e-banking developed?
Insiders say that many lenders that have invested in this kind of service have posted positive performances for the business line. For example, Intesa Sanpaolo has registered annual growth over the past two years with the implementation of new functionalities, what it describes as a modern and friendly graphic interface and some unique authentication methods like the mobile token. "The objective is to offer more complex and innovative solutions that provide support for existing customers and attract potential new ones that are convinced by the usefulness of these services," say representatives of Intesa Sanpaolo.
Elsewhere, ING Bank has tried to adapt its e-banking services permanently to the needs of its customers and their preferences. "Over time, we monitored our customers' use of our service and we introduced many innovations. We invest about EUR 1 million a year in developing electronic payment services – Home'Bank, Mobile and Self'bank – because we focus on developing banking services dedicated to the channels used by consumers and adapted to their new consumption behaviors," says Radu. The lender launched Home'Bank back in 2006 and today it has over 350,000 customers. Florea of OTP says that the development of the lender's services focused on reducing the time required to process a banking transaction and interconnection in real time of all systems from which its e-banking solutions take data.
Mobile banking tipped to dominate
Pundits say it is obvious that the local market has great potential on the e-banking segment as it will make up an increasing weight in customers' banking activity. "The focus will evolve from the strict operational side of the current e-banking services to more complex solutions oriented toward sale and access to more diversified banking products," say representatives of Intesa Sanpaolo Bank.
One significant factor that determines the evolution of internet and mobile banking is soaring sales of smartphones. According to Radu of ING, the high penetration rate of mobile telecommunication combined with the increase in the number of smartphones bought has started to change consumers' behavior significantly and to direct them more and more towards using smartphones for a wide range of activities, in addition to the voice function: online purchases, banking transactions and media consumption. At present there are about 2-2.5 million smartphones in use, according to market estimations.
"Although the volume is still low in Romania and we're speaking about thousands of users compared with the internet banking market, we predict that mobile banking payments will exceed those made through desktop computers in the next four or five years. This is encouraged by the trend at international level, where operations of different types through mobile and mobile payments are expected to become a mass phenomenon in less than four years, according to the latest study conducted by KPMG," says Radu. "We expect mobile banking payments to reach 5 percent of internet banking payments by the end of this year. That's why we intend to strengthen our position on this segment."
Similarly, Florea of OTP believes that the future will belong to mobile banking. "Desktop platforms will also have a component of analysis, like a personal financial tool. The purpose of it will be to allow the customer to benefit from a more concrete analysis of his or her financial situation," he says.
Romanians remain open to new technologies
Florea describes Romanians as receptive to such services, considering them more useful and quicker. He says that over 70 percent of the bank's total transactions are made through OTPdirekt, its internet banking service. Radu of ING adds that only one week from the launch of its mobile banking application, the lender had seen more than 10,000 downloads. "At present this application is used by five times more customers than Home'Bank was in its first week of launch, in 2006," says Radu. He adds that the lender intends to extend its range of this type of innovative service for its customers.
"At present we already have in development products that will continue this line, even in the mobile area," he notes.
The mobile token is the latest move from Intesa San Paolo in Romania.This application can be installed on every type of phone or smartphone, replacing the classic token. "All these innovations and the strategy of an attractive cut in commission for payments made by electronic banking have contributed to the increase in receptivity of our customers and a very high uptake," adds the Intesa Sanpaolo Bank representative.