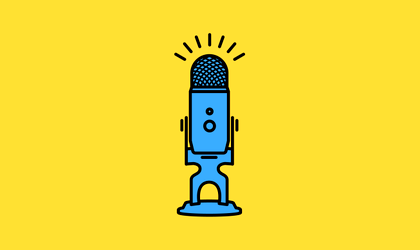 From banking to e-commerce, marketing, retail or deco, any company can have a podcast these days, regardless of its size or international or local reach. Right now, there are more than 850,000 active podcasts and more than 30 million podcast episodes worldwide, in more than 100 languages.
By Romanita Oprea
Why are podcasts a trend among companies today? According to Robert Katai, content and communication manager at Bannersnack, the entire content marketing ecosystem is based on two important elements: content creation and marketing strategy. And when we think about content creation, we should keep in mind that there are four types of content: text, photo, video, and audio.
"There was a time when blogging was on the rise. Every company had started their own blog page. Every journalist had a blog as a side project and within a few years they had turned it into a business worth millions. Then the video revolution began, so companies started to also look at video marketing. YouTubers became the new celebrities of the internet and video consumption was on the rise," said Robert Katai.
As he notes, we are now witnessing an audio revolution. Between video and text, audio is giving the consumer a sense of belonging. People love to consume podcasts because it's not just entertainment. "Active people don't have time to consume active content (video or text). Active people love passive content, the one that lets you do something else while you are listening to your favourite new episode. And when brands know how to serve their consumers' interest in an audio format, they will win in the podcasting world," Katai added.
Andreea Vrabie, the host of DoR's "Pe bune" podcast, knows how to put things into perspective and reminds us that podcasts have been trending globally for some years now. It was the investigative journalism podcast Serial launched in 2014 that opened up podcasts to the mainstream audience through the compelling story of Adnan Syed, a teenager who might have been wrongly accused of murdering his girlfriend in 1999.
"I think it was the most downloaded podcast in history, with tens of millions of downloads. This podcast made both advertisers and producers aware of the fact that it's worth investing in this type of media because people want to listen to interesting stories. What makes podcasts unique is that you can listen to them while doing other activities: commuting to work, jogging, cleaning the house. You don't have to allocate time to them like you do for books or TV series; the time is already there and you can fill it up with information. I think this is what has made podcasts trend internationally: people realised that they could use the time they already had to learn something, to listen to a good story or just to entertain themselves," explained Vrabie. She believes that podcasts in Romania are still in the beginning, although they have been picking up traction in the past year. "There are lots of shows, I think over 150, but the audience is still small, in the thousands. Most Romanian podcasts (about 90 percent) are interview podcasts, so we still lack diversity. When we have more narrative or fiction or investigative journalism shows, that could draw a larger and more diverse audience, then we could talk about podcasts trending in our country," said Pe bune's creator.
In turn, Silvia Mihailescu, marketing and communications director at ING Bank Romania, says that in the "right now" context, namely the COVID-19 pandemic and the lockdowns we've had all around the world, podcasts have become a hot trend, including due to the fact that it is so much easier, cheaper, and quicker to produce audio ads. And many brands – especially those outside Romania – have chosen to produce podcast ads in a maximum of two days rather than go for TV campaigns that would have required several weeks. Therefore, in terms of easily adapting to a crisis and producing something quickly, podcasts worked like a charm.
"Looking at the bigger picture on why podcasts in general are becoming more relevant for companies, there is another simple reason: people nowadays watch and listen rather than read and write. So, in addition to the existing "easy to watch" channels, we are now going for the "easy to listen" one – which is a podcast, both for internal and external communications," said Silvia Mihailescu.
The third reason, and something that it is important for every brand, is that podcast listeners are in general better educated and have higher incomes. And that makes them a great audience if your marketing strategy is aimed at this kind of segment. "The fourth reason is that podcast consumers are a holy grail when it comes to advertising – around 70 percent remember brands and products from podcast ads and a similar number make a purchase after hearing an ad in a podcast, according to IAB.com. So as a brand, although you'd pay more to get to a podcast audience when it comes to CPM, you would reach a very engaged audience, who is very loyal to the show's host and to the topic," said ING's representative.
According to Diana Serban, owner of D Communications, podcasts are a trend because they exploit a sense we haven't used very much in marketing until now: hearing. It is a communication channel that can be accessed anytime and anywhere, and the attention span is huge. She and her team launched their branded podcast on April 9 and so far, in just 2 months, they have an average listening time of 10 hours. Moreover, podcasts have low competition, the content is engaging and convenient for listeners, there is a mobile-friendly content option, with audiences that are very loyal (podcast listeners are 20 percent more likely to connect with a brand on social media). In other words, podcasts are a very good tool to create awareness and engagement.
A Nielsen study found that podcast advertising delivers 4.4 times better brand recall than other digital media, even against visually striking display adverts and videos. On the last count, there were 1 million podcasts in the world, with 30 million episodes. People are listening to podcasts mostly while driving or at work, periods of time that were not so well covered by other marketing tools (outdoor or social media). Podcast listeners regularly stay engaged for more than 30 minutes at a time, according to podcast.co – much longer than they do with the average YouTube video or blog. And this close, one-on-one time spent with a brand makes listeners perceive it as more likeable and trustworthy. "There are also social platforms that have started to encourage audio content. Twitter is rolling out a new type of tweet – audio tweets – allowing users to share thoughts in an audio format on their feeds. The feature is only be available to some iOS users for now," Serban noted.
"Last but not least, I'd say brands are also doing more around podcasts because they trust them more – we're seeing more investment on this side from both a content and a measurement perspective. Just to name some recent examples – Soundcloud partnered with Twitch earlier this year, Spotify signed a USD 100 million worth exclusive three-year podcast licensing deal for "The Joe Rogan Experience", there was a recent announcement of a partnership to bring DC's Super Heroes and Super Villains to podcast, and of course Siriux XM – who acquired Pandora a while ago – has acquired the podcast management and analytics platform Simplecast. Brands can now see better quality content, and better ways to measure its performance," Silvia Mihailescu explained.
The creation part
There is a long distance between knowing how and why podcasts work to actually creating one. Building real storytelling is not easy and requires some steps and inspiration. First of all, one has to define the message or messages they want to deliver, as a brand, through the podcast. Diana Serban recommends that the message not be extremely commercial because people feel when you're trying hard to sell them something. Listeners will tune out quickly if you treat your podcast like a 30-minute sales spiel.
"Telling stories that involve your products or brand values is more efficient that explicitly talking about your products. Because in this way you manage to get people's attention in a noninvasive way. While paying attention to the story, they are in touch with the brand too. The purpose is not necessarily to sell through a podcast, but to be inside the consumer's mind almost all the time or as much as possible. It's very easy to create a story: you need some characters and a plot. The trick is you need to choose a plot that most of your customers resonate with because in the end this is what will make them pay attention to your story," said Serban.
"To me, it is the overall Listener Experience (LX) that matters. And yes, there is a name for it nowadays, because it is really important. Keeping the audience hooked and engaged takes a lot of work. As usual, a great experience starts with empathy, understanding the audience and its needs, not just trying to do something "because you think it's important" or "because you have to sell it". Then obviously, like with video, you need your data to build the story – and this is a bit of a challenge, because podcast & audio data is both all over the place and nowhere. But the audio industry is getting a bit better at this. Other important aspects are that you need to think a bit in terms of episodes, and envision the red thread for your audience," Mihailescu argued.
Moreover, because of the luxury of having more time available in a podcast (we are talking tens of minutes), people don't tend to work on a script. The way a podcast episode starts is as important as how it continues or ends. Cherish and be mindful of the precious gifts your audience is giving you: their time, attention, and readiness to take action.
In Robert Katai's mind, it's very important to have your own voice and have a story to tell. "Other podcast creators are always asking me why they should create a podcast, and I tell them it's because no one can tell your story the way you tell it. We need more stories in our lives. And guess what, there is a story at every corner, in every discussion, every day. All you have to do is go out, find them, give them a voice and let people know about them. Just think about how a story was told back in ancient times. It was word of mouth marketing, right? Well, that's exactly what podcasting is today. You will hear a good story and you will make sure to tell everyone about it. Because it's helping you have a better position in your community," said Katai.
"You want to put in all the ingredients that make a good story: you want to hear and "see" (describe) the characters, to imagine the place where they are, you want details about the events they are talking about, you want action that moves the story along, you want them to convey emotion and to impart knowledge, and as a listener, you also want to feel transformed after listening to the story. So, from this point of view, podcasts are not that different from any other media (text, film, TV shows). But audio has the advantage that you can hear the emotion in a person's voice (a laugh, a sigh, a pause that tells you something) and it creates a sense of intimacy because you can't see that person, it's just you and the story they are telling thorough your headphones and it's more easy to connect with them and their story," Andreea Vrabie concluded.
How does one create high quality content with a podcast? In Serban's opinion, there is nothing more creative than authenticity. The key is to avoid reading text, because people will get bored. They want to listen to your true opinion on a topic, they like to feel when you have doubts about something, when you laugh… this is the way you can spice up your podcast. "Don't be afraid to stutter; it is so normal and human that nobody will take it as a bad point. The most creative podcasts are those that get the listener very close to a raw experience. Sound effects make a huge difference. For a professional podcast, I recommend that you work with a professional team who can help you properly record and edit your podcast," said Serban.
"You can be creative by using music, sounds, field recordings to set a mood and to give the story more colour. I don't think there are any rules, anything you can use to immerse the listener into the universe of your story can be considered creative," Vrabie added.
Coming back to the Listener Experience, ING's representative reiterates some very important aspects: knowing the audience, showing empathy, running your research (and having that data), being consistent, fun, and keeping that red thread across your episodes. "What I'd say could make it or break it is understanding how audio works as a medium. And here I see radio people and agencies who have worked with audio publishers as having both an advantage and the responsibility to educate everyone else. Because audio content is more immersive, it's right there between your ears, it needs to be addressed differently than TV and social media. And I am not just talking about exploring 3D audio, but also about understanding how our brains are wired to listening to information in a certain sequence, how low and high tones help us remember things and more. One of the first things I'd probably recommend to someone who'd love to start a podcast would be to understand how audio works in general," Silvia Mihailescu argued.
So, what is ING's strategy? Where do podcasts fit into the company's marketing plan? At the global level, ING doesn't have a podcast strategy yet. We're seeing different countries having great ideas and experimenting with podcast series – some more focused on business and banking-related topics than others. However, the brand has a global audio strategy (looking at the sound logo, music, etc), that is starting to look good, and Mihailescu also sees a strong presence for podcasts in the future. And locally, as they do take digital audio very seriously, they have signed a partnership with Spotify this year.
"I feel that there are many great opportunities to educate and engage with our audience in Romania via podcasts – from innovation and digital topics, to financial education, entrepreneurship, sustainability, and more. So we do have a dedicated place for podcasts in our marketing plan. And even if did start out as an experiment and we still have a lot to learn about it, we take it seriously. And it's been a very fun project for the team to work on," said Mihailescu.
Success
A successful podcast really depends on two factors, according to Robert Katai: first is what you mean by a successful podcast, and second is what the creator wants to get from it. For example, if you want to grow a personal podcast and have people see you as an internet celebrity, you have to do a lot of work. Because guess what? You don't have a single platform like YouTube to recommend your podcast. There is not a YouTube platform for podcasts. Also, there is this illusion podcasters have that if they start creating more and more podcasts, companies will start to invest in their shows. But that's a myth. "Because when a company wants to invest in your podcast, they want two things from you: your audience and your brand. Do you have a strong and faithful community and a strong brand? If yes, there you go. Now you are successful. If not, keep building," said Katai.
Moreover, when he talks about podcasting, he always has three elements in mind: brand, production, and promotion. "The brand is your show: your main topic, your unique voice, how your podcast looks, how it feels, why people should listen to your podcast. When we talk about the brand of your show, it's always the WHY behind it. Moving forward, there is the production. Here comes the how. How do you record your podcast? How do you ask the questions? How do you format your episodes? How do you create the podcast? And last but not least is the promotion or marketing. What do you do to make your podcast more popular? What do you do to get people's attention and keep them listening to your podcast? What do you do to promote your podcast? That's Simon Sinek Golden Circle of Why (I recommend you read "Start With Why") and if you stick to this simple system, you will have a successful podcast," Bannersnack's representative concluded.
Main photo: techcrunch.com