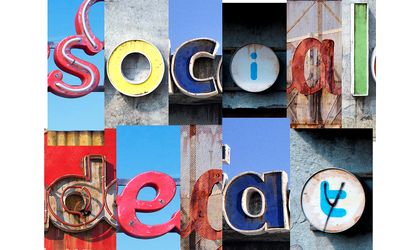 Social media is undoubtedly part of our daily routine. But what happens when a Romanian 3D artist speaks about the most popular social media networks in works of art featured in most international media?
Why a Social Decay? What represents the social decay?
I believe social interaction suffered essential transformations during the last decade, ever since social media started to grow on us. Most of our natural ways of communication, of doing business, of meeting, of actually living shifted to a virtual world, thus bringing, in my opinion, the traditional society in a state of decay. This was pretty much the idea that stood behind my project as I started it: to illustrate a metaphor, of the state of the old, natural human society, as a result of the influence of social media.
Is social media part of your daily routine? Which platforms do you use most?
Yes, I got caught in the loop, I have to admit it! Never been a true addict, but I am an old member of Facebook, and I am most active on Instagram.
Why Las Vegas graphic style as representation for Social Decay?
I think only the Tinder illustration can be associated with the Las Vegas style. Otherwise, it's a rather international style of signage, that can be found all over the world.  I actually got inspired by some local, Bucharest signs, and even the environment of the Twitter illustration is an interpretation of a modernist building from Bucharest.
Your pictures show an old and rusty world of the logos representing the probably most famous social media platforms. Why the contrast especially when most of the social media platforms bring to the public regular shiny updates?
As I mentioned earlier, my intention was not really to illustrate the decadence of these companies, but rather what they brought upon us. But, even so, every era had its great businesses that once shined and later had fallen, leaving such relics as witnesses of those time, so why couldn't this happen to these flashy companies, during this era of information.
Going offline with Social Decay, where would you install these logos in Bucharest? How about worldwide?
Never thought abut this. Maybe it would be a great piece of anti-US propaganda in some enemy states. North Korea for example!