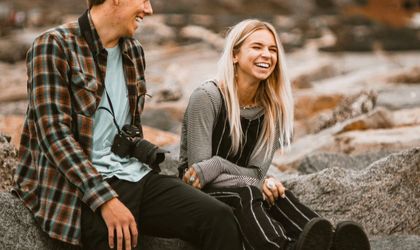 The world is changing. And the internet dating industry is changing even faster. If earlier Internet dating as a communication format developed rather slowly, now in 2021-2022, the pace has become truly meteoric.
According to a recent study by Bumble, 54% of modern people have become much more interested in the search for a potential partner and are already more serious in this matter than a couple of years ago. People are in no hurry to transfer dating offline as soon as possible. They prefer to get to know the other person better before a real meeting, communicate via video link, call up, find a lot of common interests, and only after that go on an offline date. This tendency is definitely positive. And it's not the only one.
We have collected the top seven online dating trends that are relevant right now.
Vaccination, "dry dates", video meetings and more
Let's take a closer look at new online dating trends and try to understand why they have appeared only now.
Trend 1: Vaccinated status
The coronavirus pandemic, which began in 2019 and is still ongoing, has become a powerful impetus for people — everyone has begun to take their health more seriously and are not ready to take risks. This tendency was quickly picked up by dating sites and apps. For example, Tinder quickly implemented a feature that allows users to display their vaccination status on their profile. Also, vaccinated users received other bonus functionality that was originally paid.
Tinder's example has been followed by many of its rivals, and this is the right tendency. Today, health care has become more important than ever. And although vaccination status is not documented, its presence is already a plus.
Trend 2: "Dry dates"
According to the aforementioned Bumble research, more and more users prefer "dry dates". That is, dates without use of alcohol. Psychology professor Abby Goldstein points out that people are more likely to date on days and times when they drink alcohol less — on weekdays or afternoons on weekends.
This, we believe, is also a very healthy trend. Dating should be taken seriously and not give too much scope to strong emotions. And alcohol, even in small amounts, can lead to disordered thinking and wrong decisions. Therefore, sober dates are becoming a global trend. Of course, it is up to you to decide in what format the date will take place. But think about it, do you want to start a serious relationship by drinking alcohol together? Maybe not.
Trend 3: Video dating and random chats
Ordinary text messaging is not able to give you a clear idea of ​​a person — this is a fact. Of course, you can spend weeks and months chatting, but it's much more convenient and easier to organize a video date, chat face-to-face, understand what kind of person is in front of you, how they behave, and whether they really suit you.
Starting in 2020, many dating apps have rushed to implement a video chat feature. And classic random chat sites have increased their audience by two or three times in a short time. Some even more!
Video chats are especially popular today: Chatrandom, CooMeet, Chathub and others. They allow you to communicate with random people from almost all over the world, discuss various topics and organize video meetings in a convenient format. If you are looking for a decent alternative to dating sites and apps, random video chat is a great solution!
Trend 4: Emphasis on common interests
Search by interests is not a new feature. It's on dating sites, and in random chats. But in the last couple of years it began to be used especially actively. Also, dozens of niche dating services have appeared, targeting certain categories of users.
For example, you can easily find a dating site for vegetarians, gamers, travel lovers, dog owners, and so on. There are also even more specific services, for example, a dating site for lovers of bearded men or for people whose appearance does not fit into generally accepted standards of beauty. Yes, the audience of such sites is much smaller than Tinder or Badoo. But here it is usually much easier to find like-minded people and people with whom you'll truly connect.
Trend 5: Non-standard pastimes
You have to agree that just sitting at the monitor screen or with a smartphone in hand is boring. People are gradually moving away from this format of communication, preferring something more original. For example, multiplayer gaming, simultaneous movie watching, virtual travel and the like.
The Internet opens up tremendous opportunities for us to have interesting pastimes. Of course, when you first get to know a person, you want to communicate with them more and get to know them better. But then your communication needs to be made more diverse. This is where numerous online services for spending time together at a distance come in handy. Try them, you'll definitely like them. And if not, you will always have time to return to the usual formats.
Trend 6:. Antidating
This trend began to appear against the background of the weakening of Covid restrictions. Users are tired of dating and communicating only on the Internet. Many want to meet in person and see each other. Moreover, services began to appear that do not fall under the category of classic online dating. For example, The Breakfast — an application for finding people for a joint breakfast, Random Coffee — an application for those who want to drink coffee with a new person, and so on.
Of course, this trend is a bit contrary to others. But many of us are sick and tired of constant social distancing and crave live communication, not just virtual. We are confident that this trend will continue to grow in the future.
Trend 7: Abandonment of swipes and other standard mechanics
It is already clear to everyone that swipes and so on are far from the most effective tool for finding a potential match. This is exciting at first, but when you spend several hours every evening on the application and turn the process of finding a partner into a routine, you want to completely abandon such mechanics. Many have already realized that most dating apps are not interested in creating real couples. Their task is to keep you on the site as long as possible and earn income from it. So the complete rejection of such mechanics is only a matter of time.
Dating platforms are constantly evolving
As you can see, there are a lot of new trends. Some of them are directly related to the coronavirus and quarantine restrictions. Others, with the growing sophistication of Internet users. In any case, we believe that such changes are for the better.
Dating platforms are actively changing and developing, and completely new platforms are appearing. In the near future, we'll certainly see many more new tendencies related to metaverses and VR technologies. It's too early to talk about them, but within a couple of years, we'll likely have a lot more interesting features to play with. Stay tuned for updates and keep your finger on the pulse!