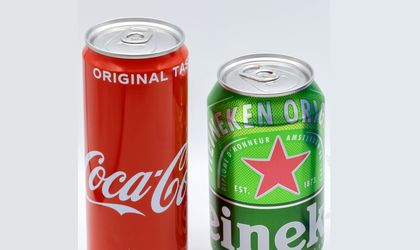 Four years since its launch, Stockday, business-2-business online trading platform, developed by HEINEKEN Romania, extends and diversifies its offer, by including the portfolio of Coca-Cola HBC Romania, the leader of the local beverages industry. The expansion takes place following the closing of a partnership between the two companies, which involves the sale by HEINEKEN Romania of a package of shares, representing 50% of the social capital, to Coca-Cola HBC Romania, in the Stockday company. This association has been approved granted approval by the European Commission.
Thus, Stockday, which addresses resellers, HoReCa industry and Traditional Trade, will ensure the distribution of all the products from both companies' portfolios, in Bucharest and other 8 selected counties. Available 24/7, the online platform will offer clients unique benefits: direct access to more than 40 brands of beer, cider, carbonated soft drinks, juices, water, energy drinks, coffee and premium spirits to the campaigns and promotions, as well as enhanced efficiency in the end-to-end processes carried out by the customer.
"As a reward of the performance and efforts of Stockday team from the past years, in a pioneering business in our market, we take a further important step in our sustainable and long-term development. Stockday will benefit of investments and know-how from both producers, HEINEKEN Romania and Coca-Cola HBC Romania, aimed to improve the distribution of products to our clients in HoReCa and Traditional Retail. This is extraordinary news, we will represent 2 leading producers on the local market, with strong and complementary portfolios, thus increasing our relevance for our customers", stated Virunga Mina, Stockday Business Unit Manager.
The partnership supports the two companies' business strategies, based on increasingly personalized services and offers that can support the growing needs of customers. Considering the new realities of the market, as well as the upward trends of digitalization, the partnership aims to streamline and improve the distribution of products to customers in traditional retail and HoReCa.
"We invest constantly in innovative and sustainable solutions. Stockday is a digital tool that provides 24/7 support in our customer's activity and a way for them to evaluate and improve their performance. We are happy to work with HEINEKEN Romania and we are convinced that such partnerships are beneficial for the development of the industry in which we operate." said Jovan Radosavljevic, General Manager, Coca-Cola HBC Romania.
—
"HEINEKEN has a proud history in Romania and working with our customers and partners is at the core of our activity. Alongside our distributors and Modern Trade customers, this new partnership adds another layer to our route-to-market, as Stockday offers great service, choice and competitive offers.", said Dan Robinson, Managing Director, HEINEKEN Romania.