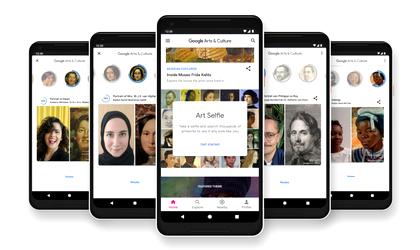 Google's Arts and Culture app includes a feature that allows users to find their lookalikes in artworks by uploading a selfie. Several celebrities have already used the feature and have increased the app's popularity.
The app is based on Google's machine learning technology. After a user takes a selfie, their photo is compared with faces found in artworks available in Google Arts & Culture partner institutions. After a short time, the user can see the result along with a lookalike percentage. As expected, the app has had lots of bizarre results, and people can't seem to get enough of it.
The feature was first launched in January and was initially available in just a handful of countries, but today it went live across the world. The feature has been used to make over 78 million matches from contributing museums and galleries around the world, after over one million downloads.
Google says the selfies uploaded to the app are not stored or used for any other purposes.