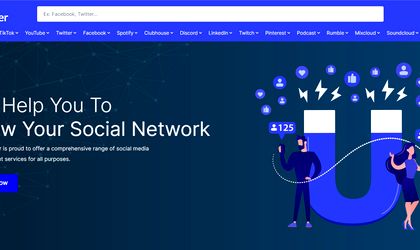 How safe is Media Mister? Will this social media marketing company help your account grow? Read all about it in my Media Mister Review!
Buying and selling social proof is nothing new. I can confess to having used a bunch of them myself. Over the years, dozens of social media growth companies have opened their doors online. All claim to be the best in the business, with an increasingly diverse range of products and services available. In this Media Mister review, we'll be looking to establish whether these guys are still legit by today's standards.
You and I both know that social proof holds the key to getting ahead on all social media platforms.  From Facebook to Instagram to Twitter to TikTok, social signals are everything. Followers, likes, shares, comments, downloads, and so on – everybody knows that more is always better.
But this is only true where social signals are safe, effective, and authentic. Fake social proof from spam accounts will only bring you problems and is best avoided at all costs. The question is – how does Media Mister stack up when compared to its closest competitors? That's what I set out to find out – read on for more…
About Media Mister
Established in 2012, Media Mister has been doing its thing for a full decade. A veteran on the scene with an established track record, Media Mister has been around far longer than almost any comparable social media growth company.
Staffed by a team of experienced social media marketing professionals, Media Mister claims to offer the web's broadest range of high-quality, 100% risk-free promotional products and services. They promise real social signals from authentic accounts and have stacked up a decent number of positive reviews to date.
A renowned Instagram growth company, Media Mister, also offers dozens of products and packages for Facebook, Twitter, Telegram, TikTok, LinkedIn, and other popular platforms.
How Does Media Mister Work?
I personally think that the user-interface at Media Mister is more intuitive. You simply choose a platform from the menu at the top of the screen, select the service you're interested in and specify the quantity you want to buy.
Placing orders is fast, easy, and secure, with (literally) hundreds of different products and services to choose from. Media Mister also claims to offer custom products and packages upon request, but this is something we cannot verify.
The Media Mister website is also loaded with helpful resources, blog posts, and FAQs, along with useful information on the benefits and potential limitations of buying social proof. Unlike some, Media Mister does not claim to be selling miracle products for overnight fame and fortune.
I've come across more than enough BS in my time to know that this is definitely a plus point!
Services Offered by Media Mister
At a glance, it's clear that Media Mister has one of the most comprehensive ranges of promotional products of any social media growth company online. At the time of my review, the following were among the most popular products on sale at Media Mister:
1) Facebook: Followers, Likes, Reviews, Views, Group Members, Reactions, Event Attendees, Comment Replies, Comments, Shares, and Poll Votes.
2) YouTube: Subscribers, Views, Shares, Watch Time Hours, Likes, Comments, Dislikes, and Favourites.
3) LinkedIn: Followers, Connections, Recommendations, Likes, Endorsements, Comments, and Shares.
4) Instagram: Likes, Followers, Views, Impressions, Saves, Comments, Comment Replies, Profile Visits, Mentions, Post Reach, and Story Poll Votes.
5) Twitter: Followers, Comments, Retweets, Likes, Views, Poll Votes, and Impressions.
6) TikTok: Followers, Likes, Comments, Shares, and Views.
7) Pinterest: Followers, Likes, and Repins.
This barely scratches the surface with regard to the full range of products Media Mister offers. They also claim to be continuously expanding their product line-up and again welcome custom requests from new and existing customers.
Why Media Mister?
In terms of more specific claims to fame, Media Mister isn't shy about singing its own praises. Though in a welcome break from the norm, they do seem to do a pretty good job of coming through on their promises. A few of the features and standout qualities that make Media Mister a popular choice:
Services from Real People
This is a big deal, as fake social proof from spam accounts can be downright dangerous. Media Mister claims to exclusively provide authentic products from real people, which, as far as we can see, does indeed seem to be the case.
Targeted Services
Many of the services for sale at Media Mister can be targeted to specific geographic locations worldwide. This can be useful if targeting a specific audience or market with your social media output.
Secured Website
All transactions are processed swiftly and securely, so there are no issues with regard to privacy or safety. Media Mister clearly sets out its approach to customer safety and security in its published privacy policy.
Extensive Information and FAQs
As already touched upon, the Media Mister website is loaded with useful information and FAQs – indicative of a quality service that cares about its customers. Again, without ever crossing the line into false information about the limitations of social signals.
Transparent Pricing
I came across a couple of Media Mister reviews that said the site doesn't display product prices, but this simply is not the case. All prices are clearly listed for every product and service available, with no additional extras like transaction fees, processing fees, or hidden costs. Their pricing policy is as clear and transparent as it gets…period.
Delivery Time
Media Mister promises to commence the delivery of all orders within 24 to 48 hours, after which a 'drip feeding' delivery is used to maintain discretion. This matters, as overly-rapid delivery of social signals, can lead to detection by triggering automated spam filters.
Money-Back Guarantee
This is particularly impressive, as Media Mister covers all sales with a money-back guarantee. A refund can be claimed in instances where the products and services ordered are not delivered in full and on time as agreed. To me, this is an impressive show of confidence and commitment to customer satisfaction.
High Retention Rates
Retention rates can be an issue when buying social signals, as there will almost always be a few 'drops' here and there. I was pleased to see that Media Mister compensates for this with a 60-day initial retention warranty, which, as far as we can see, is the longest of any similar social media growth company.
Customer Support
Customer service is provided exclusively by way of live chat and email. It's a shame Media Mister doesn't currently offer telephone support, but the live chat facility is excellent in terms of responsiveness and convenience. Kudos also goes to the team for its friendly attitude, which I really appreciated while chatting with them.
Positive Track Record on Sitejabber
Last up, the majority of the feedback Media Mister has stacked up over the years is positive in nature. They have a decent track record on Sitejabber – particularly when compared to competing social media growth specialists. Put to the test; they appear to do exactly as they say they do.
Media Mister Pricing
At no point does Media Mister claim to offer the cheapest promotional products and services on the web. Instead, they claim to offer unbeatable prices on authentic social signals of the highest quality.
This means that while there may be cheaper alternatives available, they may not be of the same high-quality standard. In any case, products and packages at Media Mister start from as little as $5.00 – I even saw one or two services up for grabs from just $2.00.
There's no free trial available, but when you can put their products to the test for just two bucks, there doesn't really need to be.
Is Media Mister Safe to Use?
Safety should always be your priority when shopping for social signals. Loading your profiles and post with spam will only ever do more harm than good, and fake followers should be avoided at all costs.
Plus, if you're anything like me, you'd rather not have your private data hijacked along the way.
With Media Mister, the focus seems to be on quality and authenticity from start to finish. They claim to exclusively source their products and services from real people with active and authentic accounts, which are added manually and never by bots.
Combined with gradual delivery, secure payments, and a tonne of helpful resources, it all adds up to a pretty reassuring picture. We've also come across no third-party reports to suggest that Media Mister is anything but 100% safe to use.
Is Media Mister Legit?
The short answer is yes – Media Mister appears to be legit. Having purchased a selection of their products and examined them closely, their overall quality standards seem very good.
Shy of the occasional disgruntled customer, most people seem to be happy with the way Media Mister does business.
They've certainly got a better reputation than most of their competitors, and there's a money-back guarantee for added peace of mind. Not to mention that an initial retention warranty of 60 days – is way longer than most comparable companies offer. As far as I'm concerned, this adds up to a legit prospect.
Pros and Cons of Media Mister
Pros:
One of the biggest ranges of promotional products and services on the web
Comprehensively low prices with clear and transparent pricing
Products and services sourced from active and authentic accounts
A track record that extends all the way back to 2012
Market-leading retention warranty for the first 60 days
All sales are covered by a money-back guarantee for peace of mind
A huge archive of helpful resources and FAQs
Cons:
There is no free trial available.
Media Mister Review: Final Verdict
The aim of my Media Mister review was to determine how the company stacks up by today's increasingly high standards.  Having examined everything that matters most, I can confidently recommend Media Mister as a safe bet to check out.
Buying social signals to boost social media engagement will always have its downsides. Dropped followers, lost likes, and the risks associated with spam services from fake accounts, for example.
With Media Mister, the focus is on safety and authenticity from start to finish. For this reason alone – coupled with the reassurance of a full money-back guarantee – I'd say there's no reason not to check out Media Mister and see how they do business for yourself.
Frequently Asked Questions:
1) Does Media Mister Offer the Best Prices On the Web?
Media Mister stakes claim to offer unbeatable value for money, combining authentic products and services with competitive prices. Like-for-like, the company's prices are either in line with or lower than those of comparable providers.
2) How is Payment Data Handled?
All payments are processed securely and encrypted from start to finish. Media Mister requests only the bare minimum information from customers to process payments, and all data is held securely – check out the company's privacy policy for more information.
3) Are the Likes, Followers, Views, and So On Stable?
It is impossible to guarantee that none of the social signals you buy will drop from your profile or posts after being purchased. Rather than making false promises, Media Mister instead covers all sales with a market-leading 60-day retention warranty for total peace of mind.
4) Is it Legal to Buy These Kinds of Social Media Services?
Yes – there is nothing illegal about buying social signals of any kind and in any quantities required. However, fake social proof from spam accounts is prohibited by the platforms themselves and could result in the suspension of your account where detected.