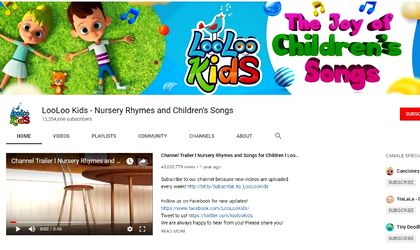 YouTube announces that it will award the first "diamond button" in Romania, a reward offered to channels that exceed the threshold of 10 million subscribers. LooLoo Kids is the first YouTube channel in Romania and the Central and South-Eastern Europe region to receive the "diamond button" distinction.
LooLoo Kids offers songs and educational content for children in the form of 3D animation, and addresses a global audience. Content is available in 7 languages: English, Romanian, Russian, Spanish, Portuguese, Turkish and Lithuanian. Three other languages – French, German, Italian – are in preparation.
LooLoo Kids hosts 100 original children's songs in a total of 230 minutes of 3D animation. Launched in August 2014, the channel currently has over 13 million subscribers and more than 5 billion views. Most of the audience comes from the United States with about 700 million views, followed by Indonesia, India, Thailand, the UK and Brazil.
"YouTube offers content creators a way to the global audience, and LooLoo Kids is already on this path. They have become one of the most popular YouTube kids channels in the world, and now they get the most important distinction from YouTube: the diamond button. We are glad that a content creator from Romania managed to cross borders and reach this level," said Elisabeta Moraru, Country Business Development manager, Google.
"The great success and feedback we received by launching TraLaLa encouraged us to develop LooLooKids, our English entertainment channel. The diamond button now provided by YouTube is a quality certification, an encouragement, but also a great responsibility because our animations and music every month entertains and educates over 120 million children all over the world. We want the children to be happier!" said Alexandru Badan, LooLoo Kids CEO.
The company that owns the LooLoo Kids channel is Mora TV in Iasi. Along with LooLoo Kids, Mora TV's portfolio includes TraLaLa, a channel with 2 million subscribers to the public in Romania, with 3D animations and songs for children, and BoonBoon, with cartoons dubbed in Romanian. Mora TV was founded in 2012 by Cristina and Alexandru Badan, both from Iasi, and started with the YouTube TraLaLa channel to create original children's content.