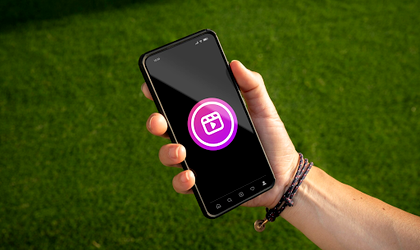 Ready to dive into the exciting world of social media? Hold onto your hats because we're introducing you to the hottest trend in town: Instagram Reels.
These little nuggets of creativity are taking the online world by storm for a good reason.
Picture this: short, eye-catching videos that grab your audience's attention and keep them glued to their screens. 
Sounds incredible, right? To keep you along the waves, we have compiled some of the latest trends in IG reels to take your creativity to another level. 
 So, buckle up, and let's get started.
What Are Instagram Reels, And Why Are They Popular?
Instagram is an incredible social media platform where you can share awesome visual stuff like photos and videos with your followers/audience.
 With over 1.30 billion monthly active users, like 28% of all internet users worldwide, IG always tries to improve things.
They continue to add new features and improve those already there. That's where Instagram Reels come into play.
Furthermore, Meta introduced Instagram Reels in August 2020, and they are 90-second videos that you can use to show off your creative genius. After creating the video, there's an easy way to Instagram real video download that can help you repost it on other social media sites.  
You can record your content, jazz it up with audio, captions, stickers, original tunes, fancy AR effects, and even adjust the speed and alignment. 
And the best part? You can easily share your Reels with your friends or other folks on Instagram right from the platform.  
Can Businesses Use Instagram Reels For Marketing?
Seriously, Reels are the talk of the town on Instagram, so it's a must-have for any business wanting to level up its social media game. 
Guess what?
Reels have a whopping 2.54% view rate, while regular Instagram videos lag at 1.74%. Indeed, that's really something that can elevate your business game to the next level. 
Moreover, reels are your secret weapon to tap into new markets and reel in more customers (pun intended). 
And here's the cherry on top: Reels don't vanish after 24 hours like Stories. Nope, your amazing content sticks around until you decide to bid it farewell. Also, the Instagram video download mp4 feature lets you download your reels effortlessly. 
Plus, Reels bring a ton of benefits to businesses:
Boost Brand Awareness: IG Reels allow you to reach a broader audience, even if they don't follow your account.
Showcase Your Brand's Personality: You can show off your brand's unique style, humor, and impact through engaging and immersive IG Reels. 
Make Products Easily Shoppable: Leveraging product tags in your Reels simplifies the shopping experience for viewers.
Seamlessly Approachability: You'll come across as super friendly and approachable using Reels. That's a perfect way to engage your audience and attract new ones. 
But remember, with more than 200 million business accounts on IG, you must make sure your Reels stand out. Think outside the box, and give your business account that extra sparkle.
9 Instagram Reel Trends To Follow In 2023
Let's discover and learn about the trends of Instagram that can grab your viewer's attention effortlessly. 
1. Get Your DIY (Do-It-Yourself) Game On
Enable your creative genius because DIY clothing is taking over the fashion scene. It's all about sustainability and giving fast fashion a makeover.
Imagine repurposing old clothes into trendy new pieces or customizing them to create unique fashion statements. Not only will you have a unique look, but you'll also be contributing to a greener future. 
So grab those scissors and sewing kits, and let your imagination run wild.
It's time to showcase your DIY skills and become a fashion trailblazer for the eco-conscious millennial and Gen Z crowd.
2. Set Up Your Insta-Shop 
It's a great idea to set up your shop on Instagram. Do you know why? Because more than 70% of shoppers prefer to use apps when they shop?
With an Insta-shop, your audience or customers can easily browse, choose, and purchase your products without any hassle.
They won't need to navigate another website or complete a complicated checkout process. 
3. Elevate Your IG Reels With Instagram Downloader
Creating and sharing engaging content is crucial in the dynamic world of social media.
Sometimes you stumble upon a captivating Instagram post or video you want to keep or share. That's where Skweezer comes in with its handy Instagram downloader tool, which you can access at https://skweezer.net/instagram-downloader/.
This free tool lets you download Instagram video, photos, IGTVs, or carousels with just a few clicks. You can create better reels for your followers with an Instagram video downloader, and it's easy to convert reels from Instagram to mp4 for further usage.  
With Skweezer's Instagram downloader, you can download your favorite videos or other content that inspires you and repurpose it into your unique reels.
You can also download Instagram video to MP4 format, allowing you more flexibility in editing and sharing your content. With the help of Instagram MP4 downloader, you can add trending videos, funny memes, or other creative content to your reels.
4. Dance Like Nobody's Watching 
There's something truly enchanting about the way people express themselves through dance. It's no wonder it's capturing everyone's attention and becoming a popular trend.
So, why not jump into the fun and create your dance challenges? It's a beautiful way to connect with your audience, spark their creativity, and spread happiness.
No matter if you're a pro dancer or someone who enjoys grooves, show off your passion while you dance. Forget about any judgments and dance like nobody's watching.
5. Mix It Up With Mixed Media
Brace yourself for a multimedia bonanza!
Creators are going beyond the traditional and diving into new forms of media, like podcasts. It's all about expanding their reach and connecting with their audience fresh and excitingly. 
Attending in-person conventions or meet-and-greets with your favorite creators is the best way to mingle, learn, and blast. 
So, Don't be left behind—join the club and get ready to engage with your followers through various channels.
6. Speak Up for a Cause
Gen Z and millennials are all about making their voices heard and fighting for what they believe in. And guess what? They want brands to be a part of the movement too.
In this modern age, more influencers and users use their platforms to raise awareness about important social justice causes.
It would be great to show your fans that you genuinely care about the issues they care about. So, Join the conversation, lend your support, and let your brand stand for something meaningful.
7. Keep it Short & Sweet 
The truth is our attention spans are getting shorter every day. That's why it's vital to embrace the power of bite-sized content.
Keeping your Reels short, sweet, and to the point is the key to success in this fast-paced world.
Don't waste time beating around the bush. Instead, make every second count by delivering concise, snappy, and impactful content.
Grab your audience's attention from the get-go and keep them hooked throughout. Remember, it's all about capturing and making precious moments count. 
8. Embrace User-Generated Content
Say hello to user-generated content (UGC), the crown jewel of social media marketing. UGC is all about tapping into the power of your customers and leveraging their genuine reviews and experiences.
 By reposting UGC, you're not only showcasing real-life interactions with your products or services, but you're also building trust and credibility with your audience. 
And, the best part? 
UGC is cost-effective. It's a win-win situation where your customers feel valued, and you get to strengthen your brand's presence.
9. Hashtags it With A Twist 
Rather than getting lost in the crowd of popular hashtags, creators, and businesses are shifting their focus to niche-specific and branded hashtags.
It's all about standing out from the crowd and curating hashtags that reflect your brand and industry.
 Get those creative gears turning and create unique hashtags that align perfectly with your brand identity. Doing that will increase your visibility and connect with a more targeted audience. 
Wrapping Up
We've journeyed through the exciting world of Instagram reels, the ultimate trend in social media marketing. We've explored the captivating power of these bite-sized videos, their versatility, and the endless possibilities they bring to your brand. 
With this knowledge of the latest trends and strategies, you're ready to play with your creativity and set your Reels on fire. 
So, pick up your camera, put on your director's hat, and let your imagination run wild.