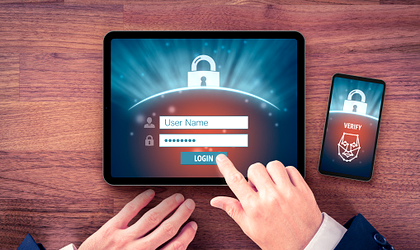 Many of us managing businesses large and small understand the importance of SMS marketing. This type of interaction allows for a genuine, intimate conversation between a brand and the consumer, resulting in additional sales, a more informed customer base, and a stronger sense of brand loyalty.
When it comes to setting up SMS outreach for your company, you need to get a few things in order. One of the most crucial steps is called two-factor authentication. The following will explore what two-factor authentication is and how you can set it up for your business.
What Is Two-Factor Authentication?
Two-factor authentication is the process whereby a business or company secures and authorizes a user's identity using two distinct forms of identification. It is most often used to help strengthen online accounts' security but can also be used by devices. Typically, this process uses a password or personal identification number (also known as a PIN) or a code sent to the user's phone or email. Of course, individual processes vary greatly depending on the product or service in question—sometimes, two-factor authentication involves biometrics like a fingerprint, face scan, or retina scan.
Security When Collecting People's Data
It is important to note that even though two-factor authentication dramatically increases security, it is not a 100% guarantee of safety. Companies need to be aware of potential threats and perform their due diligence to protect employees and clients from cyber threats. If you collect personal information from people, it is your responsibility to make sure that the information doesn't end up anywhere it's not supposed to. You might think the data you're collecting isn't valuable but guess again. Data has surpassed oil as the world's most valuable commodity. There are countless ways hackers could make use of the information your consumers have trusted you with.
Protecting Yourself And Your Work
In addition to protecting your clients and customers, two-factor authentication also protects you. This process helps you ensure that users are real people; click here to learn more about why your users need to be real people and how this influences your business. You want to make sure your advertisements and marketing are reaching actual humans.
Professional Two-Factor Authentication Tools
Hopefully, the seriousness of security has been made clear to you. If you're using SMS or email marketing, you are likely already collecting interested user's phone numbers or email addresses—we'll put that process to one side and assume that you have an email list or phone number list. We're also going to assume that you have the content you're planning on sending out or sharing sorted.
What you're looking to figure out is how you can send PIN codes via text to the numbers provided in order to verify accounts and simultaneously ensure that these users are real. To do this, you're going to need a two-factor authentication tool. Ideally, one that is easy for your clients to understand and use so that people actually go through with the process. Unless you are an expert programmer, this is something that should be left to the professionals.
Customer Identity & Access Management (CIAM)
Customer Identity and Access Management (CIAM) is a type of identity and access management (IAM) that integrates authentication and authorization into customer-facing applications. CIAM does three main things:
Improves customer registration and login experiences while reducing the risk of account takeover (a rampant problem in the consumer space because of password reuse.)
Offers customized and branded experiences for consumers, businesses, and enterprise customers.
Provides a scalable solution that can support hundreds of millions of customers.
Customer identity management is an important security measure across businesses of all shapes and sizes. Breaches can get expensive very quickly, often making a substantial impact on the bottom line. According to IBM Security, 80% of breached organizations have stated that customer PII was compromised during the breach and on average the cost of breach is $150 per customer. CIAM solutions can be easily integrated with systems that control common customer tasks such as account self-management, bill paying, order tracking, and returns, reducing the risks associated with poor password hygiene.
How To Choose A Provider Of Two-Factor Authentication
When choosing a provider of two-factor authentication, there are several things you're going to want to consider. Foremost, you need to know if the provider has a global reach and can work with all the different mobile networks, hubs, and country codes your current list and future list might hold. This information should be relatively easy for you to figure out and share with potential providers—you know where your customers are (or, you should and this is an excellent opportunity to figure it out).
Second, you're going to want to ask explicit questions about fraud prevention. You'll want to know that the provider in question offers industry-standard algorithms. You'll want to know about approved IP addresses and secure HTTPS connections. More than this, you need complete transparency with the company you're working with, as it is your responsibility to understand where your client's data is going and what it is being used for. Make sure to ask about how delivery reports are presented and how you can view all the data related to your business.
Third, it is ideal if the two-factor authentication tools provider offers customer support for no additional cost. You need to be able to contact your provider in the event that there are issues on your end, their end, or the customer's end.
The above information should give you all you need to know to begin the process of securing two-factor authentication tools for your work. Again, it is your responsibility to do everything in your power to protect your customers and their personal data.