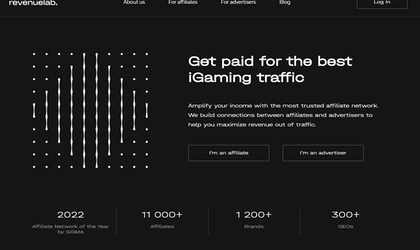 Which affiliate program best suits you needs?
The site attracts a large number of visitors, who then see advertisements. This effectively provides a passive income, no time involved. Websites, channels, social media pages or blogs attract many visitors; they're affiliate businesses by placing ads. This attracts more site visitors who see the ads and then go to the advertiser's website. That's when the information resource turns income into passive money.
Choosing the right affiliate program goes along way to improving both partners' financial standing. Doing so allows people to pursue their own goals without causing problems.
The technique is effective for both novice and expert. It's easy to follow and doesn't require a lot of resources, making it suitable for any entrepreneur.
To properly advertise, a business needs to understand what they are advertising and how to use the Internet. This is because many people who understand the Internet will be the target audience of the business' ads. It's important to choose an affiliate marketing network as your first encounter with an advertiser. These types of programs aggregate multiple affiliate programs for a centric one that advertisers can use. This allows for a straightforward and secure relationship between affiliates and advertisers, which makes it easy for new professionals in the industry to pick.
General aspects
Advertisers and ad platform owners both need to consider a few things. First of all, it is a harmonious combination of resource theme and selling products. Ideally, the resource owner should meet the needs and expectations of the target audience and at least understand the field as he sells products and answers questions of the advertiser's prospects. Everyone benefits from it.
When choosing an affiliate marketing program, gather as much information about the affiliate as possible. This is a research of the website and does not exclude product descriptions, warranties, designs. Be sure to check out the reviews and ratings. The best affiliate programs start after you've rated the site you intend to buy from and keep following that resource. For a blogger or streamer, their reputation and popularity are also important, because not only are you selling a product, but you can also get blamed for buyers' troubles. This means that your reputation depends on the reputation of the advertiser. It is best to choose an affiliate program that fits the theme, convinces and makes a good impression with its reputation and content.
Another thing you should do is test your partner's products. That means sitting, reading, and, of course, experiencing it firsthand. This is necessary for advertisers to understand which audiences will come to buy their products and whether they will come. A media worker will know exactly what he is selling and can talk honestly about a good product. He even had the opportunity to answer users' questions. Finally, pay attention to the compatibility of the target audience and the advertiser's website.
Tips for resource owners
Therefore, you need to be aware of some terms of the affiliate program: First, consider the amount of the commission. The standard is 30%, but the minimum is 5% and the maximum is 50%. Much depends on the product. Also evaluate how often and how advertisers pay. You're unlikely to get paid enough once a month, and there are plenty of ways to transfer money: from cashless transfers to bank cards and Webmoney. The more options, the better the affiliate program.
Rate your personal account. It should provide an analytical and informative opportunity to learn about conversions to the advertiser's website. Most importantly, you need a user-friendly interface, links, spend controls, and promotional materials and tools. A good advertising partner should prepare a lot of advertising, which shows his interest in commercial success and his attitude towards you as a partner. After all, this allows you to advertise your product more effectively.
Be aware of how long cookies are stored – to store links to employer websites. There were also customers who went there, were interested, but decided to buy the product months later. It's fair that you're entitled to a certain percentage of that buyer, but you can only do that with a very long cookie period, at least three months. If the customer decides to buy the product anyway, the percentage of that product still goes to you.
To sum up, don't accept the first proposal that seems lucrative. Start by choosing and exploring enough options. At the same time, there is no need to stop at one program when all three are right for you. There are several affiliate programs you can participate in. Maybe they complement each other harmoniously, or maybe you can only find out with practice what works best for you – it's still just trying.