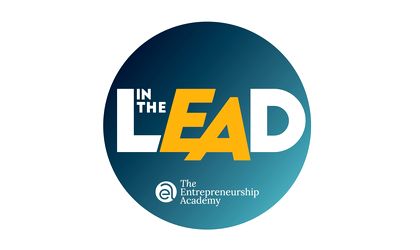 EA – The Entrepreneurship Academy launches today "In the LEAD", an inspirational podcast, with business people, for all those who have wondered, at least once, whether or not entrepreneurship is for them. The host is Alexandru Ghiță, President of EA – The Entrepreneurship Academy, and can be found in both audio and video format on dedicated streaming channels: YouTube, Spotify, Anchor.
The guests of the first three episodes are Edy Chereji – Director of Communication and Marketing of Untold and Neversea, Cristian Dascălu – entrepreneur, vlogger, programmer and George Moroianu – founder of Flip.ro and graduate of EA – The Entrepreneurship Academy.
Within the episodes we find out who is the new generation of business people and how they got from idea to success. There are inspiring stories, personal stories and lots of tips and tricks. The guests remember what were their first attempts at entrepreneurship, but also the lessons learned or the business philosophies that guide them now, after many years of work. Among all the questions about entrepreneurship, there are also personal questions, which help listeners to get an overview of the guests and their life course.
"There are many preconceived ideas about entrepreneurship and just as many people, especially young people, who want to follow this path, but something is stopping them from moving on. That's why we launched this podcast – we want to reach listeners with a single click, to give them an hour of conversation in which they can really understand what a business means, how it was built from the beginning, what the challenges were, but also moments of fulfillment. And who can talk about this if not some of the most famous entrepreneurs in the country, from whom we have so much to learn? We seek to have as many different guests as possible from various fields, to inspire people to create as many business success stories as possible. Our dream is that, in a few years, to record an episode with one of our listeners, who now does not know where to go in life", says Alexandru Ghiță, President of EA – The Entrepreneurship Academy.