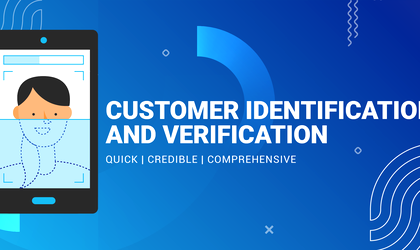 Global spending to pass $20B by 2027 on Identity Verification. Learn the trends in Digital Onboarding allowing businesses to enhance customer onboarding.
The traditionally imagined digital world is now the present; The time for enhanced digital tools for companies of all sizes and industries worldwide was initiated by the pandemic. This digital push has caused a wave of incompetent structures for digital identity verification and digital onboarding while giving birth to new cases that need identity proofing systems.
A recent report showed, 90% of financial and insurance businesses have quickly embraced digital business processes and customer onboarding, but 64% of them nevertheless say identity verification is a challenging process for the customers to be onboarded.
Another report conducted suggests the reason why it is so, it says 83% of consumers were discouraged by the complexity of signing up for an online account and 60% would abandon the account opening process completely if the identity verification process took more than 40 seconds.
In conclusion, Digital identity proofing means more than just adhering to KYC and AML necessities. Businesses now require the ability to verify identities digitally and remotely while still assuring customer experience with top priority.
Let's look at 3 questions that sum up the Digital Onboarding and Identity Verification trends in 2023;
How can Digital Onboarding be used to inspire customer confidence?
As instantiated by in-house experts at IDcentral, the latest method of online commerce and businesses have repeatedly faced difficulties deriving from simpler seeds like customer churn induced by complicated onboarding processes to more hectic cases like synthetic identity scams and regulatory compliance challenges.
We have always used ID cards, health cards, passports or driving licences, we've long depended on assorted records of physical ID to prove our identity. But as digital ID and ID wallets are becoming largely adapted, organisations require ways to verify customers' identities remotely – this is where the paint point arises. In the digital world, developing trust answers the question of how a person and the business on both sides of the interaction know that they are dealing with a genuine and trusted party.
Secure Digital Onboarding helps bridge this gap and develop digital trust. Effectively, a digital identity is a compilation of personal details that exists on a database and can be used to cross-verify your actual identity. It's an unrestricted tool that can be reused to provide electronic proof of identity. This customer data verification can be assed using AI based technologies to verify physical IDs issued by a trusted authority with a known level of assurance using OCR and other technologies. As it's cryptographically secured, it permits people to maintain more significant privacy and data security than a classic process of identification.
How can Identity Verification be used to develop Digital Trust?
The fundamentals of digital identification may be easily applied to identity verification, particularly during the account opening stage, when bridging the physical/digital divide is critical. Furthermore, 84% of consumers believe it is critical to precisely verify their identity online when creating a financial services account, 60% when opening a healthcare account, and 32% when opening a gaming /gambling account.
Organizations can compare a user's selfie to a photo of a government-issued ID, such as a driver's licence or passport, in this situation. This approach, which employs biometric technology, may provide a conclusive "match" or "no match" judgement in seconds. This adds an important layer of Face-Match technology that protects against stolen IDs and enables organisations to correctly check if the ID document genuinely belongs to the individual performing the transaction, therefore generating a digital identity. Furthermore, liveness detection may be implemented to guarantee that the person holding the ID is present during the transaction. This safeguards the organisation against sophisticated spoofing attacks by verifying that the photos taken during onboarding are from a genuine individual and not a spoofing artefact.
Consumers place great value on establishing this degree of trust with a company. According to our research, adults are more willing to participate with particular organisations that have strong identity verification processes in place. For example, 57% would like to interact with a financial services organisation online, while 51% would prefer to interact with online healthcare services.
How can ongoing identity proofing aid in the security of finances and transactions?
However, this strategy does not have to be limited to sign-ups. The approach may be used to continuously check individuals and give additional identity assurance, which is especially critical in high-risk settings such as online banking. Requesting a new selfie from the user each time they log in to their online account or app creates a new biometric template. This is then matched to the original biometric information obtained during onboarding to instantly unlock the user's digital identity for ongoing authentication.
The government's proposal to establish digital IDs is a great step toward combating identity fraud and based on statistics, digital identities can potentially give a competitive edge when used for identity verification. To ensure that customers and transactions are always protected, businesses should leverage the power of this technology, leveraging the benefits to create an ecosystem of trust that stops identity fraudsters in their tracks – something that is especially important in an era of constant data breaches.
IDcentral allows you to automate the extraction of information from client papers or images of documents so that you can rapidly check them on the move. Our Identity Verification service is designed to collect, categorise, and validate documents with high accuracy against government databases, and this data is provided in onboarding apps. It even identifies low-quality photos, rotated images, and any format with excellent accuracy and no mistakes.
IDcentral provides a cutting-edge digital onboarding solution through:
Instant document verification using online document verification technologies
Customers can upload images of documents for intelligent extraction of key data without the need for manual interaction.
Obtain customer information from approved sources.
To improve accuracy, supplement consumer data from additional sources.
Self-service verification processes
Improved client satisfaction
Defending onboarding procedures against identity theft
Request a demo of IDcentral's Identity Verification solution, which includes AI-based Liveness Detection and Face Match.
Author Info :
Name : Sumanth Kumar
Position and Company : Digital Marketing Consultant, IDcentral – a Subex Company
Email : Sumanth.kumar@subex.com
Bio : Sumanth Kumar is a Digital Marketing Consultant at IDcentral (A Subex Company). With hands-on experience with all of IDcentral's solutions, he understands the importance of digital onboarding and identity verification in the current world.