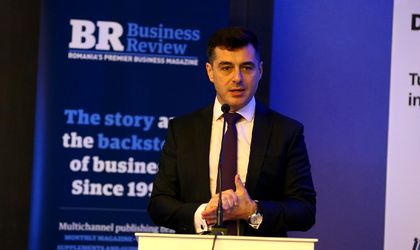 Raul Mihu, Partner at DENTONS, held a presentation during BR's Tax & Law Conference on the issue of privacy and the use of personal data by online giants such as Facebook. The topic of his presentation was the investigation carried out by Germany's federal competition authority into Facebook's market position and use of personal data, which resulted in a decision that requires the social media company to revise its terms and conditions.
"We all know by now that social media networks collect personal data – but what should be the limit? How far should this process go? This is the question German authorities wanted to answer through an investigation carried out by the country's competition authority", Raul Mihu, said.
Facebook collects and combines personal data from its own network, as well as WhatsApp, Instagram and like buttons on various websites – any website or app that uses FB's APIs are included.
According to DENTONS' representative, Germany tried to define the online market and it was not a simple task – "they wanted to find whether Facebook could be seen as being on the same market as other networks like Snapchat, LinkedIn, Twitter, etc. They concluded that Facebook was a self-standing market and thus has no real competition", he added.
Competitors to Facebook are unlikely to appear, he explained. He gave the example of Google+ – the network was unsuccessful and was recently shut down as it wasn't able to compete.
"Facebook is dominant because it has a lock-in effect – users are basically required to sign up and use it for various purposes. And for this reason, the consent a user gives to Facebook isn't really a free choice, but rather it's forced because the user needs to use the network", he explained.
The German authority thus found that Facebook was guilty of abuse of dominant market position through exploitative terms and conditions. "They also evaluated its behavior based on the GDPR, not only in terms of the competitive market – they looked at whether the way Facebook  collects data was justified and to what extent the consent given by the user is a free choice", he explained.
Facebook argued that data collection was necessary to fulfill their contracts with users. "This argument was rejected because they could have done the same by only using the data that came exclusively from the network, and not also from third parties or other apps. No other GDPR exceptions applied to this process, either", the consultant pointed.
According to him, Facebook's biggest problem is that they were found to have a dominant position, which affects the way they relate to users and third parties.
After the decision, the social media network has 12 months to adapt its terms & conditions and no longer use external data. "They'll still be able to collect it, but won't be able to use it together with the data collected on Facebook, unless they come up with a way to get active consent from users. These users will probably agree to the terms anyway, so the legal decision won't have very strong effects and we'll end up in the same situation as before", he explained.
Facebook responded to the German competition authority's findings by saying that popularity is not dominance, that user privacy has been improved after GDPR and that they use the information to tailor each user's experience as well as protect their safety and security. They also claimed that they would soon introduce a clear history tool for users, who will be able to see the info FB got from other websites and delete it from their accounts. "Facebook has appealed the decision in Germany and no fine has been issued yet in the case. But we're definitely seeing a wide range of discussions on this topic and other companies have been affected too. The discussion will also go towards taxing these companies' revenues at the European level", he concluded.