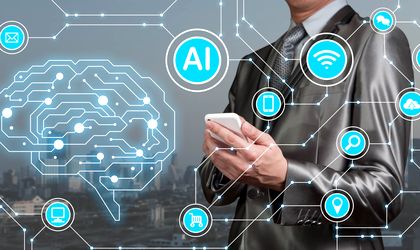 Small business owners regularly make the following mistake. Assuming AI tools are solely the domain of larger corporations. Realistically, nothing could be further from the truth. Because small business owners, unlike large companies, are often unable to afford full-time HR and customer care representatives, while corporations can. Here's where AI tools change the game for small business owners, leveling the playing field by enabling them to compete on a competitive level. In today's post, we'll look at the benefits of affordable AI tools you can use to drive your business forward by providing much-needed support and reducing your workload.
AI Logo Design – Making logo design easy
Designing a logo and your small business's logo design has never been easier due to the rise of AI logo platforms. An industry once safe in the hands of humans has now been turned on its heads by AI.
Once businesses had no choice but to pay a professional 'human' logo designer if they wanted a logo for their business. But, now they can make a pro looking logo with help of an AI designers.
These AI logo tools use algorithms to match colors, fonts and design elements based on human inputs. The algorithms also feed off new logo trends which means they are continually learning.
AI logo design platforms are now used by millions of small business owners who can create entire brand identities, with no prior design skills necessary. But it's not only ease of use that's making them so popular; price also comes into play as they're a fraction of the cost compared to hiring a professional brand designer.
AI logo tool options:
Tailor Brands– Tailor Brands logo maker uses an AI algorithm to recommend different colors, fonts, shapes, and styles based on your brand preferences and details.
Logo AI – While Tailor Brands have been around for a while Logo AI are one of the new kids on the block in AI Logo Design. They also offer AI generated brand materials.
Fiverr – Fiverr are well-known for the freelancer platform. They broke the freelance industry when the first launched. Recently, they came-out an AI Logo Maker tool. I wonder how their freelance logo designers feel about that!
AI Chat Bots – Freeing up customer care
As a small business owner, I know that we regularly play the customer care role, which takes up a lot of precious time.
And as you know, it's a crucial element of your business model. And the level of customer care provided is often the difference between a positive or negative review and a one-time customer becoming a lifelong advocate of your brand.
Chatbots, the pop-up windows that greet us as we land on a webpage saying, (hi, I'm Steve, how can I help you today), solve this problem. A chatbot provides 24/7 customer care, and customers are growing more comfortable using them as their ability to mimic natural interaction increases.
And a recent survey showed that 53% of people prefer to use online chat before contacting a human representative. Perhaps it's because of the directness of chatbots; after all, they don't get tired of answering the same questions and always provide the most relevant and valuable advice.
So, if your small business doesn't have a dedicated customer care team, and you'd like to spend your time growing your business rather than replying to clients' questions. An AI chatbot could be the first tool you need to incorporate into your company's workforce.
Three Chatbots worth considering:
Aivo – Aivo is a no-code, multichannel AI conversational chatbot. You can plug it into numerous services your target customers use and create a consistent consumer experience. Aivo can engage people coming from mobile apps, webchats, WhatsApp, Facebook Messenger, and Instagram. And it can automate customer support phone calls, helping reducing waiting times.
IBM Watson – Watson is a low-code AI chatbot, so like Aivo, you don't need any coding skills. What's innovative about Watson is, if it doesn't know the answer, it asks the user for further clarification rather than guessing. And, of course, it's self-learning, meaning it evolves as each question is asked and answered.
Dialogflow – Dialogflow is a code-based chatbot, and the platform takes some learning to get used to. However, it excels at customer care, engagement, and retention. And Dialogflow can also help improve your traffic, acquire new customers and retain currently active ones. Reducing your consumer acquisition costs.
AI Webs Design – Making web design accessible to all
If you've ever tried to use a CRM like WordPress to build a website, you'll know that it's not as straightforward as they'd like you to believe. And as hiring web developers can run into the thousands of dollars, it's often way beyond a small business owner's budget.
Of course, AI developers are aware of this and have been creating AI web design tools for some time now.
AI web design works by using advanced algorithms, providing various design options for every website page. They work by providing you with design choices and quickly learning from your preferred preferences and style.
And AI webs design can also improve your user's experience by analyzing data and delivering a streamlined website performance. You can also use it to develop or redesign your existing website, reducing costs.
You've several options to choose from, here's our top two:
Wix ADI – You probably know of Wix as the platform responsible for over 4.6 million websites. But Wix ADI (Artificial Design Intelligence) is different. It's AI-driven and provides a cost-effective, streamlined, personalized website building experience to business owners.
Firedrop – Firedrop differs from other website development platforms as it removed the drag and drop and template design system. Replacing it with Sacha, their AI chatbot that designs your website by asking you questions and using your feedback. Removing those complicated menu systems or bewildering toolbars!
AI CRMs – Optimizing sales flows
A CRM (customer-relationship management system) is designed to optimize and automate the sales process by gathering user data from communication channels like social, phone, and emails.
Numerous platforms now use and offer AI CRMs to help small business owners analyze their customer feedback, then automatically update and adjust marketing and lead generation strategies using the information obtained.
AI CRMs not only help maximize your lead generation results but also enable you to generate leads at no extra cost to your marketing dollar. What's more, these tools prove their worth in acquiring relevant sales and marketing insights and optimizing the customer acquisition process.
AI CRMs to look out for:
HubSpot CRM – An innovative CRM aimed at small business owners. The HubSpot platform offers a freemium model and a range of helpful add-ons that provide a highly optimized end-to-end martech solution (Marketing technology including a range of software and tools to assist you in achieving your marketing goals).
Freshsales CRM – If you're looking for a lightweight CRM solution that enables you to get your marketing up and running quickly, the Freshsales CRM is a great choice. It provides an AI assistant with customizable options that make it easy and affordable to use.
Zoho CRM – A competitively priced AI CRM that provides a mix of valuable features that integrate seamlessly with most of Zoho's other 45 SaaS (software-as-a-service) products that can help you run your small business.
AI HR – Streaming the hiring process
I mentioned earlier how AI tools can help those small business owners who have yet to employ staff, but what about when you're ready to move up a gear?
Here's where AI HR (human resource) tools come into play.
AI HR tools can help you develop job searches, wade through resumes, and identify suitable candidates quickly. AI HR tools can also conduct interviews remotely and independently. And provide answers to FAQs regarding benefits, company policies/culture, and any other relevant information after you've hired a candidate.
But AI HR tools go further by providing an equal opportunity and objective candidate selection system. And connect with employees' concerns and complaints in an unbiased fashion.
AI chatbots for HR:
XOR – The XOR AI bot screens candidates asking customizable questions and sorts and scores your applicants on autopilot.
Hiretual – The AI tool uses advanced technology to search beyond your internal database and the usual leading platforms to find the best available candidates.
Arya – Another AI recruiting tool that focuses on select sourcing. But Arya offers several editions, making it a suitable fit for all business sizes.
Conclusion
While some small businesses owners quickly embraced artificial intelligence, others are still a little cautious. Primarily because of unawareness. However, the reality is AI is here to stay, and it could be helping you save valuable time and resources. Taking your small business and turning it into a great company.