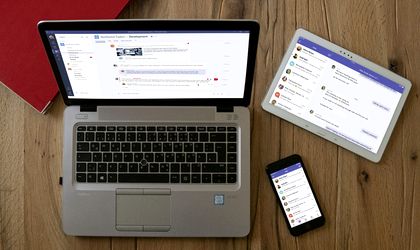 What began as Skype for Business has developed into one of the most advanced online collaboration tools now accessible. Microsoft Teams is not only able to conduct meetings, and offer one-on-one chats and collaborative workspaces, but it is also extensively connected with the Microsoft 365 suite.
Whether you're one of the platform's 75 million current users or you've just subscribed to Microsoft 365 and want to give it a try, it's important to understand how to use this technology to your advantage. Keeping that in mind, here are some tips that can help you and your team become more productive, collaborative, and united, even when you're physically separated.
Use Keyboard Shortcuts 
Common tasks can be completed much more quickly with the use of keyboard shortcuts. It may take some time until you feel comfortable with these basics, but once you do, it takes only a fraction of a second to execute a command instead of searching for it in a menu.
Do Not Disturb
It's nice to be able to focus on the conversation at hand without having to constantly check your notifications. If you want to modify the alerts you receive and how often they occur, simply click your profile image (upper right) and navigate to the notifications page.
Send Urgent Chat Notifications 
This is the equivalent of pounding noisily on an office door, only in the digital world. Below the text compose box, there are two options labelled "Urgent" and "Important" that can be checked to emphasise the importance of the message you're about to send.
Marking a message as urgent will cause it to be delivered to the recipient every two minutes for the next twenty minutes, making it difficult to ignore.
Send Praise 
How can you show your coworkers that you care? It's easier than ever with Teams; find out more online (https://www.gamma.co.uk/products/microsoft-teams-telephony/).
Below the text box in any chat window, you'll see a small icon that looks like a ribbon. If you click here, you'll open the Praise window, where you can choose a badge, add a message, and send it to a colleague in private. Need to get there more quickly? In the Command Bar, type "@praise."
Download Meeting Transcriptions 
Taking notes in a meeting might be helpful, but it's not always easy. No need to worry about that anymore, thanks to Microsoft Teams! When you're ready to watch the meeting recording, just hit the ellipsis button. Select Update Video Details from the ellipsis menu that appears next. Select Update from the main menu, then select Video Language and finally select Autogenerate a caption file.
At the conclusion of the procedure, you can access the conference transcription via Microsoft Streams and save it to your computer.
Chat With Non-Users
Teams' ability to send and receive messages across services like Slack and Cisco Webex is a nice addition to the app. You'll need a Mio account to use this tool, but once you do, you'll be able to easily send GIFs, emojis, and messages to clients and external contacts via Slack or Webex.
Create Private Channels 
The ability to build additional channels within an existing team for private collaboration or sensitive discussions is a useful tool when certain information should be kept to a minimum of those who have a genuine need to know. If you want to know if a channel is private, just look for the lock icon in the upper right.
Photo: dreamstime.com