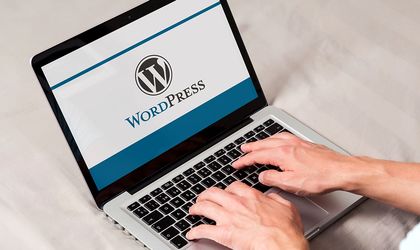 WordPress is used nowadays for more than one third of all the websites around the world, starting with personal blogs of different sizes and going further to more complex websites of big companies such as: Sony, Time Inc., New York Post and NBC. WordPress is just one of the many content management systems that you can download for free and install to create a professional website, but for its unique qualities it has become the most popular and the most used platform of its kind.
Why should you choose WordPress to create a professional website?
Flexible and perfectly adaptable to the ever changing needs of its users
Even though WordPress was initially created to support blogs and other similar types of online publications, it is used now for a wide variety of websites created for different purposes other than blogging. You can see everywhere famous news websites or huge online stores created with WordPress. Also, with WordPress, you can create impressive portfolios for your business, or you can host forums and podcasts. With just a pinch of imagination and a lot more knowledge, you can even create a full responsive social network using WordPress.
Easy to use – even for bloggers who have just started their careers
You can create a WordPress website within just a few hours, even if that is the first website you ever created. Everything that a WordPress user needs to create a new website is a domain name and a hosting plan. For best results, you should collaborate from the beginning with an agency specialized in wordpress hosting because its team can assist you whenever you encounter a problem regarding this platform.
The variety of themes available for WordPress gives you uncountable options.
There are a lot of WordPress themes that users can use to control how their new websites look and also their functions. Many of these themes are instantly available to the new website owner and thousands more can be bought from professional designers around the world. You can also check out these themes before you install them in order to make sure that they are a perfect fit for your website.
The WordPress plug-ins extend the functionality of the platform
WordPress already has all the elements that a professional blog needs, but there are a lot of users who desire other functions too, in order to meet their business' needs. The WordPress portfolio includes hundreds of plug-ins – code lines created especially to execute specific tasks which let users add new functions to their websites, as for example, shopping carts, galleries, contact forms and many other elements. Users can also purchase and install many custom plug-ins directly from third-party designers around the world. They can be enabled or disabled and uninstalled as needed as a website evolves.
WordPress websites have a built-in blogging feature
Because WordPress is a content management system, it has many features that make it easy for its users to publish content online. One of these is a "built-in" blog feature that can be accessed from any device, at any time, so users who want to add a blog to their website don't have to create one separately. This makes it possible even for websites not directly related to blogging to use the blog function to announce updates or hot news.
WordPress websites are mobile responsive
Nowadays, it is important from the SEO point of view that a website can be accessed in an easy and fast way not only from desktops and laptops, but also from mobile terminals. Display mode on mobile terminals is a ranking factor in the SERPs, so any website must look good on any device. WordPress offers a variety of responsive themes, plug-ins and widgets that users can use to create mobile-friendly websites not only easy to access, but very pretty looking.
This being said, if you haven't used WordPress by now and you want to create a professional-looking website from scratch, this is the right time to get familiar with this CMS.