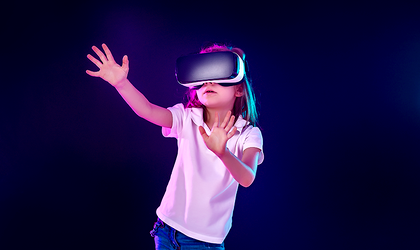 Noe-Fi Studios, the brand new startup founded by dream-team Ioana Mischie (Founder, CEO, Transmedia Artist/Futurist) and Vikram Jotwani (Co-founder/ Head of Growth and Innovation) is set to accomplish innovative projects in the year to come, after successfully taking part in this year's edition of Web Summit.
Having international expertise gathered from Europe, Asia and North America, the start-up promises to promote enriching and ethical frameworks of immersive entertainment.
The emergence of a holistic start-up
Noe-Fi Studios was founded in the Autumn of 2020 as a Bucharest-based immersive entertainment studio focusing on state of the art XR projects, neuro-gaming and transmedia franchises. Their current goal is to achieve creating holistic, continuous artistic worlds that may lead to in-depth social change. It wishes to create and support storyworlds that encapsulate 3 key-ingredients: meaningful concepts, groundbreaking angles or technologies and constructive social impact.
"Noe-Fi Studios is first and foremost, a new thinking paradigm that is not only tech-driven, but meaning-driven, concept-driven, community-driven. It arises from the desire to design transmedia, transdisciplinary, trans-generational, trans-spatial, trans-temporal and trans-real initiatives that are able to enrich the human spirit. And with its scalable approach it promises to add a new level of innovation to the immersive industries worldwide. " – Ioana Mischie, Founder, Noe-Fi Studios
—
"I am excited and proud to be an active part of such a futuristic company. I believe the potential of immersive experiences is truly limitless. Noe-Fi Studios is one of the only transdisciplinary companies in Eastern Europe focusing on transmedia neuro-gaming experiences and holistic VR journeys that not only have an artistic voice, but also an educational and business component." – Vikram Jotwani, Co-Founder, Noe-Fi Studios.
The NOE-FI movement
This name of the start-up is the short version of an original concept called "noetic fiction" initiated by Ioana Mischie in her transmedia doctoral study: "Unlike the sci-fi genre that bases the creative act on the accelerated evolution of science, noe-fi imagines futures focused on the evolution of human consciousness, individually or collectively. We aim to create projects that value a form of virtual telepathy, where we can explore and personalise the imagination of others about the future. We want to create advanced forms of collaborative fiction to generate, in the end, not only virtual realities, but also material realities, human realities, with a high degree of complexity. Ideally we wish to create holistic artistic worlds that can be viewed not only in cinemas or in purely artistic spaces, but in as many levels of our societies as possible".
The Creative Line-Up
Noe-Fi Studios aims to expand the raw yet revolutionary realm of neuro-VR and neuro-gaming by combining VR experiences infused with educational and social components with EEG input technology provisorily, in order to obtain a fully immersive and participatory experience. For the past decade, the creatives and producers invested now in Noe-Fi have been creating innovative artistic universes designed as transmedia franchises such as Government of Children (VR, film, interactive) or Unquiet Voices that were selected to more than 100 festivals worldwide and multi-awarded on multiple continents.
The line-up of Noe-Fi Studios already reunites successful projects.
The most recent VR franchise, Tangible Utopias, co-produced with national and international partners, invites international participants to step into an Odyssey of long-term future cities, as envisaged by children worldwide.  After being selected at Cannes XR, Venice Gap Financing Market and VR Days Europe – IFM in the early phases, and after receiving the support of AFCN – New Media, the project became one of the most successful Romanian VR universes.
Another VR universe, DreamNA just had its international pitching premieres at Geneva VR Market and Torino Short Film Market in November and was recently awarded by AFCN, promising a first public module by the end of 2021.
Attending Web Summit and launching an innovative manifesto
Noe-Fi Studios has been selected as one of the most promising Eastern European VR start-ups along with Tangible Utopias as one recent daring project and their team members had the opportunity to attend this year's spectacular edition of WebSummit. For the very first time, the team members received a chance to pitch live their current paths in this top-notch international event, by honouring the invitation of the Romanian Embassy in Portugal.
Ioana Mischie had the opportunity to represent Noe-Fi Studios during an international roundtable reuniting seven pioneering start-up founders from around the world in dialogue with Jean-David Malo, director of the European Innovation Council, European Commission at Web Summit 2020. The roundtable focussed on how to celebrate and advocate for diversity, inclusion and multiculturalism in the most tangible manners on the short, medium and long term. Among the proposals that the Noe-Fi Studios founder vouched for: designing inclusion not only for humans, but also for other planetary species, designing long-term strategies that feel holistic and organic, not only focussing on trends such as deep tech and finally securing  a system of promoting ethical role models within the immersive industries and within the arts, culture and entrepreneurship fields in general.
Vikram Jotwani had the opportunity to participate in a roundtable discussion on the topic 'Alternative funding options for startups' along with 6 pioneering start-up founders from around the world at Web Summit. The discussion was moderated by Mr. João Mendes Borga, Director, Startup Portugal and Vikram briefly shared his in-depth views on "How Strategic partnerships can galvanize a startup's growth and puts the startup in a better position for any funding opportunities."