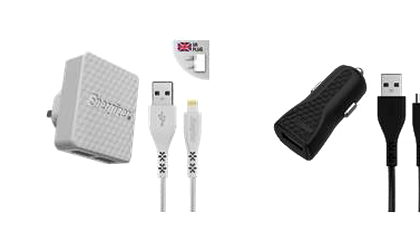 Avenir Telecom, one of Romania's largest distributors of phones, accessories for mobile phones and telecommunication services, is expanding its mobile phone accessories segment and introduces Celly's high quality Celly accessories from Celly SpA, one of the leading manufacturers and distributors of the Italy mobile phone accessories market.
For Avenir Telecom is a new expansion of the distribution segment after the company introduced the Energizer phones and accessories in February 2018. The company also completes the Energizer range of life-saving products.
Avenir Telecom is the only distributor in Romania of high quality Celly accessories for mobile devices. The move takes place in a favorable context of market evolution. According to Avenir Telecom's estimate, the mobile phone accessories market grew last year by about 40 percent to about 14 million units. The estimate takes into account the number of smartphones sold in 2018, approximately 4 million units, each new purchased phone generating the acquisition of an average of three accessories. These include mobile phones already in the market, which generate additional purchases of accessories, such as films and protective cases.
"Adding Celly accessories to our portfolio is an important step for Avenir Telecom to complement our portfolio, especially in the area of ​​protection, fashion, audio and gadgets. It is a brand that suits our strategy to sell high-quality, attractive and modern packaging products certified and fully compatible for a wide range of mobile devices in the market," says Costin Soare, general manager of Avenir Telecom.
Avenir Telecom thus distributes the full range of Mobile Devices, focused on several product categories, such as protection, charging, audio, utilities, sports, photo and leisure. Celly focuses on understanding customer needs as the essential component of a successful strategy. Celly produces smart accessories that help customers stay connected at any time in their everyday life: at home, at work, during workout, when traveling or during leisure. With 20 years of experience on the market, Celly S.p.A is one of the leading manufacturers and distributors of the Italy mobile phone accessories market.
Lifetime Warranty
Avenir Telecom complements the range of Energizer accessories to charge mobile phones with life-assurance products made from high-strength materials. The new Energizer® products are the concrete solution of Avenir Telecom to increase the use of smartphones in the context of their low battery life.
Keeping Energizer brand DNA, the new range offers innovative load-carrying solutions made from robust materials and carefully chosen components for their reliability. Cables, wireless chargers, car chargers, and wall chargers are available in several variants (from 1A to 3.4A) to meet the needs of all users.
The life-saving charging / data cables available for all chargers in the range resist a voltage of up to 50kg and over 10,000 twists. They are covered with a very durable plastic fabric that gives them durability and flexibility. The connectors, made of high quality components, are reinforced in the areas where most bends and twists occur to protect circuits and absorb pressure.
Wall chargers and machine chargers are made of fiberglass and polycarbonate that ensure their robustness under extreme conditions of use. It can withstand up to 2 meters, 1.8 tonnes of a car that passes over and thousands of uses. Loaders are available in several variants (from 1A to 3.4A) to meet the needs of all users.
Being a convenient and fast solution, the Qi wireless charger can power up to 10W compatible smartphones. Ultra-slim, elegant design is made of high-strength steel. The wireless charger, compatible with most geocaches and carcasses, is powered by a life-saving, micro-USB cable.
Celly S.p.A has been specializing in the production and distribution of mobile phone accessories for more than 20 years. Celly branded accessories are designed to improve and simplify the experience of using smartphones and tablets that meet market needs. The company, based in Italy, is present in more than 45 countries around the world, with over 1,000 portfolio items divided into several product categories: protection, upload, audio, utilities, sports, photo and leisure. In 2014, Celly became part of the Esprinet Group, the largest distributor of technology from South to create the strongest player distribution market mobile accessories and to increase the awareness of the brand Celly in all European countries.
Avenir Telecom is one of the largest distributors of mobile accessories for mobile phones and telecommunication services in Romania and the local subsidiary of French group Avenir Telecom, one of the largest distributors of equipment and telecommunications services Europe and the manufacturer and distributor of Energizer accessories and phones. In Romania, Avenir Telecom operates one of the largest GSM retailers, Internity, with a national network of 49 stores. Internity offers products and services to Telekom Romania's mobile telephony operator, as well as an extensive range of GSM phones and accessories under its own brand Energizer.