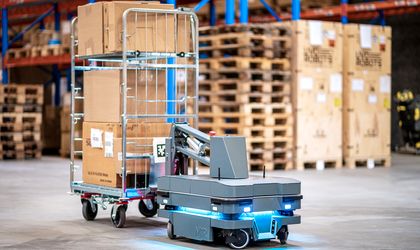 Among the operations that can be most easily assigned to autonomous mobile robots are the lifting and transporting of Euro-pallets, the lifting of racks and wheeled trolleys, and collaboration with a robotic arm (cobot) for complex operations, according to the study "10 AMR applications that can help you automate your logistics processes" launched by Mobile Industrial Robots (MIR), the leading manufacturer of autonomous mobile robots (AMR).
Some 97% of managers believe that automating intralogistics processes has a significant or very significant positive impact on quality, 95% on speed and 86% on safety, according to "Global Industrial Robotics Survey", a report conducted by McKinsey&Company in 2022.
"All these gains become possible because in many industries such as automotive, logistics, pharmaceutical, FMCG, the sub-assemblies and other consumables are often transported manually over long distances from the warehouse to the assembly line or between logistics areas. This task can be efficiently managed by AMRs, freeing up employees for higher value-added activities. In addition, AMRs relieve employees from pushing heavy trolleys and allow companies to increase their operational efficiency by ensuring a reliable and continuous transport flow," says Paul Olariu, Area Sales Manager for Central and Eastern Europe at Mobile Industrial Robots (MIR).
Autonomous mobile robots can carry loads of up to 1,350 kg and travel tens of kilometers daily. They can operate for 8-10 hours on a single charge, and the average consumption for an eight-hour working day is 1.73 kWh, which costs no more than two to three lei.
"Technological advances in the field enable the increased use of autonomous mobile robots. Among the most feasible operations that can be attributed to autonomous mobile robots are the lifting and transporting of Euro-pallets between warehouses and assembly lines, the pulling of any type of racks and wheeled trolleys, the integration with "Karakuri" gravity systems to automate the loading and unloading of materials, the integration with conveyor belts and vertical storage systems for automatic picking of transported products, the combination with a cobot (collaborative robotic arm) to perform operations with a high level of complexity", adds Paul Olariu.
The expansion of autonomous mobile robot usage scenarios is leading to an accelerating growth in automation investment.
Over the next five years, companies in industrial sectors will allocate up to 25% of their capital spending to investment in automation systems, according to the same McKinsey&Company study. Because the benefits are easier to quantify, in the automotive and logistics sectors, investments will exceed 30%.