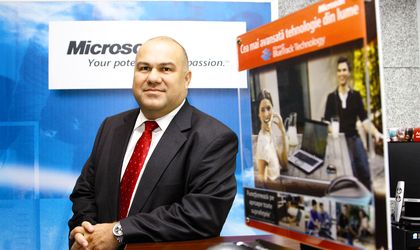 Microsoft announced last week its main priorities for the fiscal year 2011: cloud computing, a larger market share and organizational development, which involves investing in new people and creating new jobs. Microsoft is approaching cloud computing as a new business model that will shape its evolution in the future. Expectations are that, as the software giant continues to launch new products this year, it will post a 6 percent growth in 2011.
Otilia Haraga
"Even four-five years ago, when I was not yet part of Microsoft, I anticipated that there would come a time when software would be consumed as a service. Whoever does not understand this and sees cloud computing as just another new concept is wrong. It is a new model of business. Microsoft needs to change its structure and we are scouring the market to fill new positions in the cloud computing area. This is our future," said Calin Tatomir, general manager of Microsoft Romania.
He added: "I would say that in five years' time, probably more than 50 percent of clients will shift to this area. The most reticent will be large companies that rely on information obtained from their own data such as the banking and telecommunications system."
Microsoft already has clients who have made the transition to software services, including law and consultancy firms, which use these services for a monthly fee. At the moment 10 companies of more than 25 people and others of 10-15 people use these services.
The portfolio of cloud computing services that are available in Romania is: Microsoft Online Services (Business Productivity Online Standard Suite) for companies, Windows Azure Platform for developers of applications, Live@edu for educational institutions, and Windows Live for consumers. Another two will be launched in the fiscal year 2011: CRM Online and Windows Intune.
Last year, Microsoft had a "record number of launches" according to company representatives. The firm launched Windows 7, Windows Server 2008 R2 and Hyper-V Server 2008 R2, Office 2010 (in English), Sharepoint Server 2010, Exchange Server 2010, Microsoft Online Services and SQL Server 2008 R2. In September, Microsoft released Office 2010 (in Romanian) and Internet Explorer 9 beta.
In the future, the software giant has plans to launch Windows Phone 7, Lync Server 2010 (the next generation of Office Communications Server), Windows Live Essentials, Windows 7 Service Pack 1, Dynamics CRM 2011, Dynamics Nav 2009 R2, Dynamics Ax for Retail, Windows Intune and updates of System Center and Microsoft Online Services. The new launches were also behind Microsoft's return to growth.
The evolution across the company's various business sectors – OEM (licenses sold through retail outlets), SMS&P (Small to Midmarket Solutions and Partners), EPG (Enterprise Partner Group) and public sector – was quite balanced. However, Tatomir expressed dissatisfaction with the situation in the public sector. "We cannot say that our expectations that the Romanian government would invest in infrastructure projects have been fulfilled. Other governments have been much more mature," he said.
Currently, Microsoft has 3,500-4,000 partners. It aims to grow its business in 2011 by 6 percent overall. Last year the computer market fell by 25 percent and the market of local producers of computers by 40 percent.
"Last year we grew from December until June, seven months in which we posted approximately 3 percent growth. In Q1 of last year, July-September 2009, there was no growth because we are comparing with the same period of 2008 when we were not yet in recession. The increase we evaluated for the second half of this fiscal year, January-June 2011, is 15 percent. So, the growth for the entire year will be 6 percent but the most aggressive increase will take place in H2," said Tatomir.
The Microsoft Dynamics division had a positive evolution, growing 30 percent. The best evolution in this category was that of Dynamics Ax (formerly Axapta), where revenues tripled. "At the end of fiscal year 2010 65 clients were using the platform Dynamics xRM, and Microsoft is market leader on this segment," said Ioana Pana, Microsoft Dynamics lead.
According to Tatomir, 2011 will see the positioning of Axapta on the Romanian market. "If we have a 6 percent growth in the fiscal year 2011, I am sure the Dynamics segment will have contributed a lot to this," he said.
Over the past two years, more than 70 percent of the Microsoft management team has been replaced, with many of the new employees recruited from the competition. "Our team includes people from SAP, Oracle, HP, IBM, almost all our competitors," said Tatomir. Also, the first expat, Pole Michal Golebiewski, who was appointed business, marketing and operations (BMO) lead, was brought on board.
"Microsoft Romania has existed on the local market for 14 years, and it has never had a foreigner on its management board. I think this means that we have opened our gate to Europe so that we can use the experience of countries that are more advanced than us, such as Poland for instance," said Tatomir. The marketing approach has also changed, making the budget more flexible.
Last year the piracy rate in Romania dropped from 66 to 65 percent, according to the latest study by Business Software Alliance. However, this far exceeds the average European piracy rate of 35 percent. While Bulgaria is on a similar level, in neighboring countries such as Hungary, the piracy rate is 41 percent. "Over the past two years the number of complaints we've received from clients has doubled. These were mainly individual clients, but also companies, who bought software believing it to be original but when using it they realized it was pirated. Last year, from our data, more than a quarter of retail stores in Romania offered pirated software in the store itself," said Marilena Ionascu, manager of the License Compliance department.