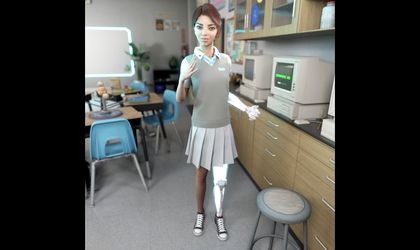 MAINSTAGE | THE AGENCY, the first full service advertising agency launched by the entertainment groups Global Records and Untold, introduces for the first time in Romania the term Digital Human. The service is a new resource for the clients to accelerate their digital transformation. 
The Digital humans are the next step in the manifestation of human interaction. The way we create a digital human is by keeping as much of the essence of the human as possible like the voice, body movements and facial expression, using motion capture and real-time technology. But we are adding a new layer, a digital body. This digital body has no limits in the digital space, it can do anything the mind can imagine. 
"We were thinking about this new concept for a few years now, but since the global pandemic the need for clients to accelerate their digital transformation became even more pressing. The beauty of technology and the virtual space is that it is limitless. We can create different characters, experiences, and spaces. Thus, we welcome forward thinking companies to help us push this technology even further.", said Madalin Nitis, General Manager at MAINSTAGE | THE AGENCY. 
MAINSTAGE experts introduced this concept in Romania out of the desire to keep a closer connection between reality and the virtual space. They consider it to be vital for a brand to come up with something new, to be able to stay well positioned or even to survive. Digital Human is based on an innovative project, which addresses companies that are thinking boldly about the future and want to be different. 
Behind this innovative concept are Michael Adrian Mircea, Director of Creative Technology and his team, who already developed the first virtual character-Wello. 
"I wish to use technology to enhance the human experience. Digital humans are here to fill in the gaps, to go beyond, like fully embodying a brand or a purpose, designed from head to toe to express an idea. At the same time navigating the virtual space in a limitless way, a Digital Human for a digital space, it just makes sense.", said Michael Adrian Mircea, Director of Creative Technology at MAINSTAGE | THE AGENCY. 
Wello was a special project because this new, fun and captivating technology was going to be used to help teens and children learn the healthy habits in life, such as nutrition, sports, financial literacy, wellbeing and many others. She presented new challenges as her body was not symmetrical due to her robotic limbs but was particularly satisfying to see work from the technical but also the aesthetic point of view.  
"We are very excited to use this technology with MAINSTAGE, and it was a fantastic process. The most amazing is that our character was created with full feedback from kids ages 10 to 18! They helped us develop the first virtual influencer in healthy habits: Wello. That allows them to learn about healthy habits in schools or at home, like nutrition, fun activities, washing hands, sex education, etc. We don't stop here, and we are already working with MAINSTAGE on the new lessons and introducing Wello in other languages." – added Sveatoslav Vizitiu, Co-Founder at Wello.ai.