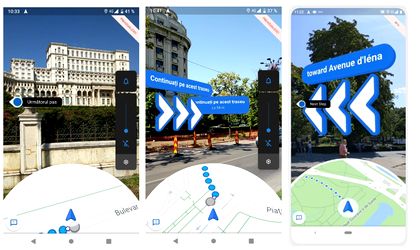 Google has launched in Romania its latest feature for Google Maps, called Live View, which provides users with walking directions using augmented reality.
The new Live View feature shows users where to go using arrows and directions superimposed on real-life images they see through their phone cameras.
To use the feature, users have to choose their destination, select walking as a means of travel, then press the blue button "Start AR". The phone's camera will open and the navigation pictures will be superimposed on the live images.
Live View, which was so far only available for Google Pixel phones, will be released this week on all Android or iPhone handsets that feature AR technology. Live View is available in most places where Street View imagery exists (including Romania).