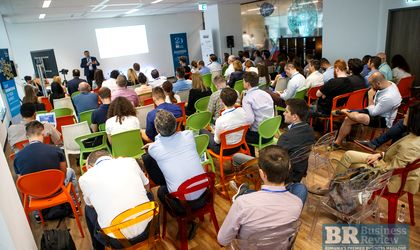 Reflecting Business Review's strong focus on technology, the first event dedicated to blockchain, kicks off in Bucharest, at Impact Hub. A meeting platform for developers and investors, it brings together local and international speakers involved in the global blockchain community.
Keynote: Blockchain and cryptofinance regulations – Thibault Verbiest – Partner |DS Avocats
What are the laws and regulations developing around blockchain technology in Europe?
Is regulation possible when applied to a decentralized network like a public blockchain?
In 1998-99, the courts started to prosecute intermediaries. Who are the intermediaries of the internet? ISPs, hosting providers – they were easy targets because you could identify them easily.
When it was impossible to find the people who posted illegal things on the internet, the CEOs of the hosting companies or ISPs were prosecuted
In 2000, the European Commission and the US Congress realized that these companies need a safe harbour because if they were prosecuted for every such case, that would be the end of the internet
The new law said that an internet access provider could not be prosecuted for illegal content – courts could only make it mandatory for them to remove the content.
We have the same issue today with blockchain – for example, let's assume that Bitcoin is used for financing terrorism and that the Interpol knows about the public keys being used to exchange the Bitcoins to finance terrorism. How can they know? Because there are tools like chain analysis that make it possible to trace back the identity of the people involved.
If you sign up with an exchange platform, you have to go through KYC/AML procedure in order to be able to link public keys with the real identity of people using them
That's why Russia is willing to make mandatory the registration of miners – if you know who the miners are you can exercise pressure and them and send orders, force them to regulate the blockchain.
Can miners benefit from the same safe harbor as the internet intermediaries? We don't have an answer to this – it is tackled by the European Commission today and I think an answer will come soon.
A big challenge to regulating blockchain is GDPR – the super legislation for the internet – there's a big problem because the blockchain is decentralized and the legislation is based on the assumption that there's always a central entity responsible for processing data and making sure that all the rights of the data subjects are being preserved – but you don't have that with blockchain. There are thousands of miners processing the data (assuming there's personal data on there) – who is the data controller? Either it's everyone, all the miners, or it's no one! If it's no one, how can we apply GDPR? If it's everyone, who's actually liable?
The other question is regulation of cryptofinance – you can use the blockchain without issuing tokens, of course, but cryptofinance is the number one avatar of blockchain and it poses various questions related to regulations.
There are three pillars of cryptofinance that have different regulatory issues:

First pillar – primary market – I want to issue tokens and am I subject to any regulations like KYC/AML? Am I obliged to identify my investors?
Second pillar – secondary market – I've issued tokens, investors have bought them, not only because they are utility tokens but also because they can be traded on exchange platforms – what kind of regulations apply to those platforms, if any?
Third pillar – professional/institutional investors – there are many tokens, ICOs, cryptocurrencies out there – a token economy; once this economy has a promise of huge profits even if it's extremely volatile, you start seeing professional investors, investment funds, more and more institutional investors that are entering the game; you see the emergence of crypto investment funds and with that specific regulatory problems – one of the key questions is the crypto asset custody – you cannot allow a regulated crypto investment fund if you don't regulate the way a custodian (traditionally a bank) can exercise its activity – there are very few member states that have addressed that problem, and the countries who do will certainly take the lead.
————————————————————————————————————————————————————
The Future Of (part I)
Vidal Chirqui – Co-Founder BTU PROTOCOL | ERC-808 Inventor – The Future of Reservation: How can a peer-to-peer booking protocol impact the Internet economy?
Online bookers have more and more influence over service providers
Internet was supposed to be the end of middlemen, but ironically, quite the opposite happened. Price comparison has led to a habit for consumers to book services through centralized online platforms. Soon, those platforms gained more and more power over the service providers who were still the ones bearing the costs of investments.
BTU Protocol: a permissionless ecosystem – the BTU token creates trust in the decentralized booking economy
The main role of our token is to incentivize developers to use this type of protocols
We've designed an open economy where everyone can book
We are connecting to the same software companies supporting websites like Booking.com
We have all the data and in our system anybody can resell it and do bookings on the behalf of customers
We provide a free software kit to empower any developer to enter the booking market –  a standard protocol to share availabilities on an open network, a virtuous model redistributing value between business actors.
Business model based on the token usage and appreciation
Token sale terms – enterprise class terms & conditions – we've worked hard to be enterprise-compliant
Adam Dorfman – Founder | If When Then – The Future of Work: Going Beyond Blockchain
85 percent of students go to university to get a job and 50 percent of industries are going to be different in a decade or so
30 percent decline in higher education enrollment in the US is really due to the fact that 66 percent of them think they're learning the wrong skills – they would pay to go to school if they thought they were learning the right thing
There's a global skills gap – a lot of people are trying to solve it in the traditional educational system but we think the solution is in the non-traditional educational ecosystem
We have an open platform for job seekers to acquire skills in a community environment
In Central Eastern Europe there's the highest amount of talent and we want to connect people here with global employers – we have about 80 partners in the CEE region
From profits to purpose: the future of jobs
The problem – WWF says 65 percent of students in elementary schools will end up working in jobs that don't exist now
The most important skill for the future: how to deal with emergence, with things changes and how to make informed decisions about what to study – that's what's missing from the current educations system.
Platform business models have already changed markets – 5 of 5 of America's largest companies are platforms.
Jack Ma estimates 90 percent of all businesses will be conducted through platform models
Why are platforms so dominant? They are a more efficient marketplace, there's a reputation mechanism, removes gatekeepers, digitizes interactions, changing the local maximum
Don't expect current leaders to lead; the innovator's dilemma – history has shown that traditional companies have the innovation – Blockbuster  had an opportunity to buy Netflix in 2004, but they said no because they were busy optimizing their business – they are not the right people to ask about innovation
Blockchain companies forget that a platform is about integrating networks, partnerships, collaboration, cooperation
Profit rake follow network effects: who will pay? Many will sell personal data to third parties
Platform innovations are going to change a lot of things – smart home: recipe creators will build a reputation; smart factories, 3D printing: finding the right designs and templates will be done through a platform, with reputations; Smart cities – how are robots going to interact: through a platform, a standard protocol for interaction
When you think of the future of jobs, you have to think like an astronaut, think of things you haven't thought of before, not just improving things that already exist
The intermediation of the data has been decentralized through blockchain – meaning people could technically analyze it –
Three advantages to blockchain:

a global funding mechanism – decentralizing venture capital – of the USD 9 billion raised recently, most of it went to developing areas that didn't have access to funding before; the other two benefits are access and learning – this technology is not ready yet, but it will emerge

Tokens have nothing to do with profits, they're about purpose
Like the internet enabled everyone to become a journalist, the global token marketplace will enable anyone to become an investor 
Lucian Opris, Senior Associate Office Agency | Colliers International Romania : The Future of Real Estate: Improving Trust and Transparency
We will become obsolete if we don't offer nee value to our clients
In real estate, peer to peer transactions would cut our the middlemen: banks, brokers like me, and escrow company holders. While for a private individual things would improve if he buys a flat, So far, you cannot negotiate through smart contracts. A broker needs to do that and know that the landlord can secure the next loan from the bank. The broker knows that and can negotiate it for the tenant. I wouldn't sign a lease agreement, not even a smart contract without a lawyer. This we consider added value and at this moment specifically will not be able to be replaced by a machine.
Tokenisation is very simple. You can own a piece of whatever real estate you like. You can have a small part of a skyscraper in London or own a little bit of the local mall.
In real estate we check the deeds . If it is a distributed ledger I think it's far faster to take a decision and say I will buy or not buy this. The immutability is in the land registry. There are countries that have done well here. Not rich countries in fact. The best example is Honduras and lots of people bought property here. Georgia is also there and Estonia is a pioneer in everything connected to blockchain.
There's a lot of property in Bucharest with no owner. Then nobody invests in it, because of that.
 I don't have a problem with becoming obsolete if raising Africa from poverty, sending money to the Philippines with 2 pct fee, clean and democratic elections, transparent government purchases becomes a reality.
As far as I'm concerned, blockchain is an instrument of trust.