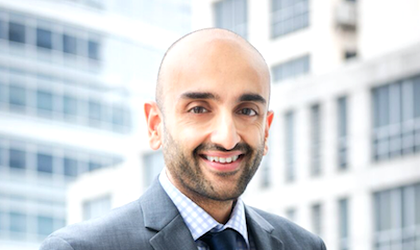 Business mentor for fintech accelerator programmes Startupbootcamp (Singapore/Mumbai, India) and Supercharger (Hong Kong), Kunal Patel has more than ten years of experience in product development, innovation & strategy across corporate organizations such as banks, payment acquirers, mobile financial services and fintech start-ups. Business Review caught up with him at Bucharest Technology Week for a chat on the importance of collaboration between banks and fintechs and possible solutions for bringing more financial inclusion to Romania.
What does the entrance of fintechs on the market mean for the user of financial services and products? 
Fintech companies are more in tune with what customers want in the digital age. Plus, they are not restricted and bogged down by regulation. So those components are very important. Then, it is about usability. They're able to understand problems from an user's point of view: they've thought about the UI and the UX. So they give a new perspective to a new generation of users.
Should the banking system be afraid of fintech players?
Right now there is a segmentation of users. The generation that grew up with banks will veer toward a bank. Would my 60-year-old parents go to a digital bank that has no brach on the high street? No. But someone who is 18 year old would rather go with a challenger bank that doesn't have any branches.
But banks should not be afraid. Banks sit on a bunch of data. That's why the boys and girls in fintechs are there to make sense of it. That's why the two have to coexist. The traditional model was not to eat into their revenues, but it was all meant to be about collaboration because they need each other to provide better services. It is a must, if they want to be successful. And the banks bring into the mix resources, large customer bases, while fintechs have on their side agility and technology.
What are the challenges to the collaboration between banks and fintechs? 
The challenges are related to the culture. Traditionally, banks have very well choreographed processes, are risk averse by nature and will look on the regulator for guidance. Fintechs on the other hand, by definition will be more innovative, and get things done at a better pace. What the two parties need to do is sit and see what the challenges are with the regulator.
But then, different regions are in different phases. Singapore and Hong Kong for instance, are open to allowing fintech companies to work with banks, set the guidelines and viewpoints and are laying down foundations for success. Even in the UK this is happening. So the question is: how to develop the ecosystem?
Fintechs to a certain degree are driving regulatory changes, whilst the banks look to regulators for guidance and governance. This is in part why the banking world has been slow to react to Fintech companies. The irony is that the regulators should be driving the relationship between the two groups. Success implies a collective effort between all parties.
What are the most advanced markets right now when it comes to fintech activity?
I must start with the UK, then western Europe is a very active place, especially countries such as Switzerland, Germany and France. Also, moving east, in the Baltic regions Lithuania stands out as one of the frontrunners, and of course Estonia. And if we move to the Asia Pacific, you have in particular Singapore and Hong Kong. And the developing markets are even learning or working with the more advanced ones right now to understand from the point of view of innovation or regulation etc because it is all about developing and learning from developed counterparts.
What is your take on the Romanian market?
I believe Romania is a fascinating market. If I were to choose between a developed and a developing market I would choose the latter, because here you have a lot of untapped potential. Also, because it is more tough and challenging to keep presenting things to people that are already content. And here a large percentage of the population lives in rural areas, so you've got a lot of opportunity there. Not to provide them with a bank card or more, but to ask yourself: are they connected? The infrastructure should be there for this financial inclusion.
Moreover, I know that in Romania less than 10 percent are using internet banking. What's the reason behind that? This is a great opportunity and service providers can eat into that if they want to. And the Romanian authorities should ask themselves: what can we do?
Who could bridge that gap and enable financial inclusion in Romania?
Regulators should drive what happens from a governance point of view. And they have a duty to serve these people better. Because if they don't have access to mainstream financial services they will end up being exploited.
In my view, drawing in on the experience of India, telcos could bridge the gap and help the people who are not financially included. Telcos present in Romania could provide smartphone users with financial services. Why not make that a business line?
But bottom line, there is a need for fresh blood. Without being disrespectful to those who have been working in banking for many decades, but we must ask ourselves: is that person the right one to be driving change? And if you want to be born into it regardless of your age, it comes down to the people. The people and their way of thinking.