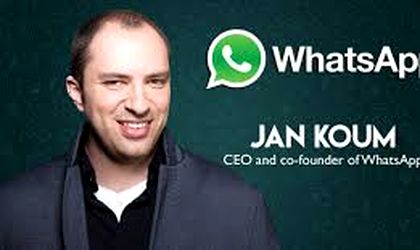 WhatsApp billionaire cofounder Jan Koum announced on Monday via his Facebook account he will be leaving the company, four years after Facebook acquired the messenger app he built with Brian Acton for $22 billion in cash and stock, according to Forbes.

It's been almost a decade since Brian and I started WhatsApp, and it's been an amazing journey with some of the best people. But it is time for me to move on," Koum wrote. "I'm leaving at a time when people are using WhatsApp in more ways than I could have imagined…I'll still be cheering WhatsApp on – just from the outside. Thanks to everyone who has made this journey possible."
Facebook CEO Mark Zuckerberg responded with a comment of appreciation as well as an acknowledgment of WhatApp's core identity of preserving user privacy and security. "I'm grateful for everything you've done to help connect the world, and for everything you've taught me, including about encryption and its ability to take power from centralized systems and put it back in people's hands," Zuckerberg wrote. "Those values will always be at the heart of WhatsApp."
Zuckerberg's response comes amid a report in The Washington Post that Koum is leaving Facebook due to the social network's attempts to access WhatsApp user data and weaken its signature end-to-end encryption. Representatives for WhatsApp could not be reached for comment.