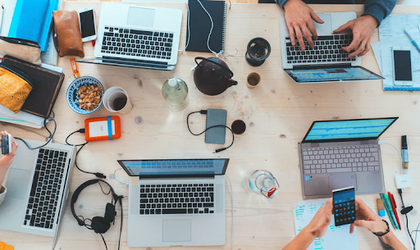 There are extensive complications when it comes to small business operations. Once you're up and running, management deals with the finances, executive decision-making, and employee satisfaction and training. For your small business, you will need marketing services, and not the least of your concerns, the staff who create the product or provide the service. But, could you be forgetting an invaluable part of your business needs? Of course, your I.T. support!
With a small business, it can be extremely difficult to manage your I.T. needs. Not wanting to hire someone full-time, but needing a specialist to tend to your I.T. concerns and needs – this can become quite a dilemma.
You may have had a staff member years ago, or when your business may have first started, who was skilled to take care of your I.T. support. But now, with increased business pressures and immensely advanced technology, I.T. infrastructure is likely to have outgrown your employee's knowledge or management abilities.
Over more than a decade, I.T. professionals have turned to consulting: providing in-house and remote support for your hard-working team. With limited time to learn about intricate technologies, how they can add value to the business, or how to maintain them, I.T. consultancies can offer long-term and project-driven solutions.
What is an office network and how can it help your business?
Creating a personal network for your employees in the form of a local area network (LAN) allows you to set-up your devices so that communication is fast and their access is easy. Connecting your laptop, tablet, PC, smartphone, and printer to each other via a router – and mostly through your Wi-Fi can transform the way you work. I.T. may not seem essential to your small or medium-sized business, but let's take a closer look at a small office network. 
Save time
Imagine if every time you wanted to print a document, you needed to manually plug in your laptop to the printing machine? With an office network, multiple people can share the device and enjoy the scan functions to email directly or send back to your laptop as a PDF.
With office networks, you can also access a shared document and instead of accidentally creating different versions, a shared network helps you update one version, instantly. Saving time for your employees frees them up to do what they do best! 
Simplify Tasks
Do you want to simplify your tasks, management system, and employee communication? An office network is the way to go! As the CEO, it is critical that you tackle head-on the changing I.T. landscape. If you want to extend your team's capabilities, but don't have the skills to configure an entire Microsoft Small Business Server or suite, for instance, it is definitely worth considering employing an I.T. consultant or consultancy firm to manage your tech needs. 
Cloud Backups
With the risk of laptop crashing or losing documents to a dysfunctional local hard drive, it is no wonder cloud backups are a huge bonus to office networks! It is no longer sufficient and cost-effective to have several employees emailing contracts back-and-forth, or taking the risk of data interception between email threads. Utilising the cloud is instant, and it allows for quick sharing and access of vital documents.
Out of the global consulting market, a whopping 20% is dedicated to technology and I.T. consulting. And with U.K. specialists Network London expressing that "Technology is at the core of every business today", it is clear that I.T. consulting is a powerfully and sought-after skill. If I.T. is not your strong suit and you're now feeling like your I.T. management should be better equipped and developed, there could be no better time than now to explore your I.T. needs with a consultant. 
Performance Monitoring
In the past, evaluating performance and goal setting to improve business results has been seen as a secondary approach to enhancing employee engagement and leadership. Trends have changed so much in the last several years that companies and small businesses alike are now seeing the potential for performance monitoring to inform more effective business processes. And they are doing so with advanced I.T. software and data-sharing platforms. With businesses instilling a forward-looking assessment to drive outcomes, measuring and monitoring performance has taken on a completely new focus and value. Consult someone who knows how to help your business grow in unimaginable ways! 
Security Tools
Cybersecurity is a constant threat, and it is essential that your company – even if it's a small business – learn how to best protect your private network. Hacking, malware, and ransomware are some of the most common threats to the leaking or destruction of your client data and personal information. Hiring I.T. specialists to prepare your office network for increased cybersecurity is crucial, and protecting your network is unquestionably important to invest in.
So, is your small business prepared to set up or enhance your office network? We hope so, and believe there is truly no better time than the present!