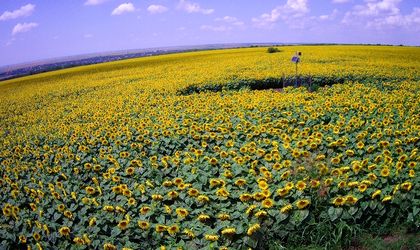 Vodafone Romania expands its portfolio of digital solutions for business with a suite of solutions dedicated to farmers. They integrate innovative sensor-based IoT technologies that ensure the collection and management of essential data for crops, automation of operations, monitoring of various parameters, analyses and predictions that allow increased efficiency and productivity in agriculture.
The solutions in Vodafone portfolio are addressed to farmers who have various types of crops – large crops (cereals, oilseeds), vegetable or fruit crops – grown both in the field and in greenhouses. The solutions are scalable and customizable, adapted to the needs of each farmer, regardless of the size of the cultivated land and the type of plant.
In addition, by connecting to Vodafone's NB-IoT (NarrowBand – IoT) network with national coverage, Vodafone solutions for agriculture enable communication between devices – sensors anywhere in the country, thus covering the needs of farmers who have crops even in remote areas and without power supplies.
"Agriculture is one of the sectors that can benefit enormously through the adoption of digital technologies and solutions. Romania is still in the beginning on this journey, but we are seeing a growing interest and openness among farmers, who have understood that precision agriculture, based on IoT technologies and data analytics, is the agriculture of the future. Digital solutions bring real value in their work, with major benefits in terms of productivity, crop quality, cost reduction, especially through the efficient use of resources, which have a significant share in their cost structure. The suite of solutions that Vodafone makes available to farmers successfully covers their needs, regardless of the type of crops they grow and the size of the cultivated land. In addition, by connecting to the Vodafone NB-IoT network with national coverage, our solutions address one of the main barriers in project implementations in this field, namely that of crops situated in remote areas, which are not currently covered by other existing communication technologies. With the launch of these solutions, Vodafone is taking one major step in its strategic direction of consolidating its position as technology provider and digitalization partner for all businesses in Romania", said Mihnea Rădulescu, Director Vodafone Business, Vodafone Romania.
Digital solutions bring farmers major benefits of increasing crop productivity and quality, maintaining soil health, reducing production costs, by optimizing the use of fertilizers, water, pesticides, and streamlining human resources, by automating specific activities in greenhouses and solariums. The solutions allow monitoring of weather conditions through sensors that detect important parameters such as wind direction and speed, air temperature and humidity, precipitations, enabling farmers to determine the optimal time for harvesting and applying treatments and nutrients in each phase of plant development and adapted to each type of crop. Soil sensors monitor soil conditions, warning on the risk of disease and facilitating prevention of disease specific to each plant. They also allow the analysis of the evolution and consumption of nutrients, in each development phase of the plant. This can make the use of fertilizers more efficient, with benefits for both plant and soil, optimizing fertilization costs, as well.
For indoor crops, Vodafone digitization solutions offer a series of automations based on real-time analytics and alerts, such as emergency shutdown of greenhouses in case of storm, operation of irrigation, ventilation, heating etc.
Through an integrated and easy-to-use application, farmers can view real-time data collected by sensors, track precipitation levels, both real-time and in forecast, receive personalized alerts and reports, recommendations for treatment, fertilizers and irrigation, important information for the planning of agricultural works. The application also provides access to isometric maps for precipitation, humidity, temperature and electroconductivity of the soil.
About precision agriculture
Precision agriculture, based on digital solutions and technologies, allows for providing to each plant the exact amount of substances (water, nutrients, pesticides), at the optimal time. This aspect has a major impact to reduce waste, optimize costs, but also to protect the environment by protecting the soil. In the absence of digital solutions and technologies for precision farming, much of the amount of nitrogen used, which is the most common fertilizer, is wasted as a result of applying fertilizers evenly over the entire crop area. The consequence is over-fertilization of soil, which negatively affects its quality, with a significant impact on the environment and crop quality.