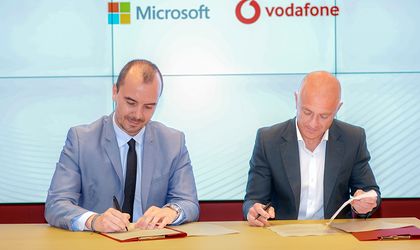 Vodafone and Microsoft signed, today, a Memorandum of Understanding with the aim of accelerating the digitalization of the public and private sectors in Romania. The two companies will cooperate for the development of digitization, research, innovation and social responsibility programs.
The collaboration between Vodafone and Microsoft, their expertise and the combined resources will bring significant benefits to citizens and businesses in Romania.
"Digitalization is the major step through which Romania can advance at an accelerated pace. For everything related to digitization, from education, research and innovation laboratories and major projects that can radically change the infrastructure, we count on a strong partner, Microsoft, to accompany us on our way to bring technology ever closer by Romanians", says Achilleas Kanaris, CEO, Vodafone Romania.
The two companies aim to increase the quality of education and support the accelerated transition to digital skills and the use of technology. Also, the purpose of the memorandum includes the implementation of specific projects for research, development, technology transfer and human capital development.
"Microsoft continues to support and commit to Romania, its government, businesses and people in digital innovations, cloud strategy and technology skills agenda to accelerate the digital transformation. Strong partnerships based on a common mission, such as the collaboration with Vodafone Romania, are vital to help create lasting impact, to enable both the private and public sectors to drive systemic change and progress towards a future that is more inclusive, fair and sustainable", said Bogdan Putinică, General Manager, Microsoft Romania.
Microsoft Romania and Vodafone Romania will also cooperate for the organization of relevant events in the field of digitization, innovation, IT, technology and telecommunications, such as seminars, workshops and online courses.