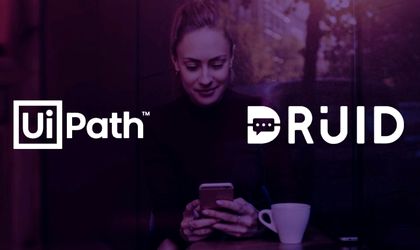 To support customers who want a conversational AI solution that complements their RPA deployment, UiPath has partnered with DRUID to resell the Druid AI-powered Chatbot Platform. DRUID is an AI-driven, no-code chatbot authoring platform that has a robust integration with the UiPath RPA Platform.
With powerful Natural Language Processing technology that interprets and provides information contextually, DRUID supports over 40 languages, various internal and external communication channels (Microsoft Teams, Skype, Slack, WhatsApp, Facebook Messenger, browser-based webchat, voice and more), and offers more than 300 pre-built conversational AI templates covering business scenarios across multiple industries and roles.
By combining conversational AI provided by DRUID with the UiPath Hyperautomation Platform, enterprises can achieve end-to-end automation for both internal (employees) and external (customers, suppliers) users. More specifically, they can:
Converse with UiPath Robots: By teaching robots to talk with DRUID chatbots using seamless bidirectional communication, robots and humans are encouraged to interact using natural language to process service requests. This also means that RPA processes can be triggered directly from a chat, which in turn increases operational efficiency.
Easily bring AI into customer support: Leverage the UiPath Platform and DRUID no-code authoring chatbot platform across all industries – such as financial services, healthcare, retail, insurance and energy – to automate customer request fulfillment involving modern or legacy systems with cloud, hybrid and on-premises deployment options. Now enterprises can delight customers by fulfilling their requests end-to-end with integrated DRUID AI chatbots.
Engage employees more productively: With DRUID AI-powered chatbots and the UiPath Platform, routine queries are handled over messaging channels freeing human agents to spend more time on complex and higher-value inquiries. Not only are agents' workloads reduced by customer-facing bots who handle repeated questions over messaging channels, but agents are further supported by bots after escalation. Bots look through connected systems and deliver relevant information to the agent's fingertips, preventing employees from constantly switching between different applications.
For example, a major financial institution is using an automation solution that integrates the capabilities of both DRUID chatbots and UiPath's software robots to process requests to postpone bank loan installments. The integration allowed the bank to cut down the processing time of a single request from 10 minutes to 20 seconds, and cope with a 125% increase in the number of calls received by call center agents, enabling it to process three times more deferral requests with the same number of people in the back office.
"UiPath's conversational AI capabilities expand the reach of traditional chatbot platforms into enterprise applications for gathering real-time knowledge and fulfilling tasks," said Param Kahlon, Chief Product Officer at UiPath. "As next-generation apps continue to be more conversationally focused, we are focused on helping to bridge the connection between chatbots and legacy enterprise apps."

"It only seems natural for instant chat and RPA to come together in contributing toward the customer self-service and employee productivity revolution," said Liviu Dragan, CEO at Druid. "By integrating with UiPath, we are elevating the end user experience and alleviating the burden experienced by the human workforce brought on by repetitive-driven tasks."