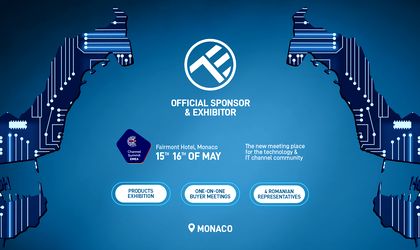 TELLUR, the Romanian smart-tech brand with exposure in over 30 international markets, participates as a main partner at Channel Summit EMEA, one of the most important tech & consumer technology events in Europe. The event takes place in Monaco from May 15th to May 16th and offers multiple opportunities to expand into new markets.
"Our participation at one of the most important European events dedicated to the technology and IT sectors  is a natural, organic step and also an excellent opportunity to connect with other industry professionals. Our role there is to evaluate and analyze other countries where we can expand TELLUR products. We are part of this ecosystem because of the brand's vision – international expansion – and especially through the product portfolio we are constantly innovating. We want to be permanently connected with other international brands and place TELLUR products in environments where we can simplify the current and future needs of consumers," said George Barbu, CEO of TELLUR.
TELLUR's participation at Channel Summit EMEA is part of a broad plan to expand its international presence and explore new markets adjacent to the 33 countries where the brand is already active. In terms of its portfolio, TELLUR will showcase products from all four categories developed: Smart, Green, Mobile and Office. One of the main pillars to be pushed will be TELLUR Green, which is in line with the company's long-term vision: by 2030, at least 85% of the products developed will be aligned with the highest environmental protection standards.
"Together with my team, I have been hosting  this kind of event for over 20 years.  Last year the Summit was attended by over 400 participants, 70 exhibitors from 25 countries and over 200 buyers from 50 countries. In a growing tech market, we are confident that this year's event will be a success, given our focus on quality rather than quantity. We are pleased and honoured to have TELLUR, a brand that is rapidly innovating and expanding with a product portfolio that is consumer-oriented and sustainable," said Farouk Hemraj, CEO of Channel Hub.
As part of the Summit agenda, TELLUR will also take part in the "Pitch your product" section, a competition dedicated to innovation and technology. One of the products promoted in this category is the Pet Feeder, a new addition to the TELLUR portfolio. This product is designed to make feeding pets much easier and more comfortable. Using advanced technology, the Pet Feeder can be programmed to dispense precise amounts of food at specific times of the day, making it an efficient way to feed pets.
TELLUR's mission is to offer the best products and services to customers in Romania and abroad. Attending as a Channel Summit EMEA Premier Partner is proof of our commitment to consumers and another step towards strengthening our global presence.