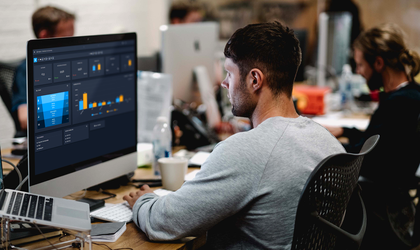 Juyo Analytics received the award for the most innovative software solution in the hospitality industry (surpassing world leaders such as IDeaS, Duetto, etc.) at the Opportunity 2020 conference held in London at the Emirates-Arsenal Stadium, on February 11 2020. The software, designed as a platform for data analysis and visualization, is used to increase the profitability for hotels. Juyo Analytics was built by Hospitality Software Development Services (HSDS) – an IT firm based in Baia Mare and Cluj-Napoca, Romania.
Juyo Analytics is a business intelligence platform that connects data from all commercial departments in one central place and transforms it into visual and shareable graphics that allow users to easily spot profit opportunities.
Displaying commercial insights from revenue to distribution, marketing to sales, and digital acquisition to finance, at the centre of all strategic decisions, Juyo empowers the commercial teams to create a shared vision and work together towards shared goals.
The software is used by renowned hotels in America and Europe: InterContinental, Hilton, Radisson, Story, Nobis, First, Choice, GLH, Pandox, etc.
Software for hospitality industry companies
HSDS ​aims to revolutionize the industry by offering a complete set of modern, customisable cloud-based platforms and solutions. The company develops web applications for some of the world's leading Hospitality Players, from leading Hotel Brands, through OTA's, to leading application providers in the Hospitality Industry.
Having a global team of more than 100 employees & partners and 20 years of experience in the hospitality industry, HSDS now powers over 3000 hotels in 48 countries.
"Twenty years ago when I founded my first Software Company in Baia Mare, everybody said what does this crazy Dutchman want to do in a mining City? The rest is literally history, I am very proud of my whole team at HSDS who receive world acclaim for their outstanding Software Solutions!" Says Adriaan Kleingeld, HSDS Founder and CEO.
Opportunity 2020 – one of the most important events in the hotel industry
The annual event is aimed at all stakeholders interested in revenue management and profitability in the hotel industry. About 400 industry leaders and software developers participated in this conference.
This year's edition (the fourth one so far) was titled 'Man Vs Machine – Where Next for Revenue Management?' and debated the impact of technology on innovation and what this means for the revenue management function in 2020. For more details on the event, visit www.opportunity2020.co.uk.