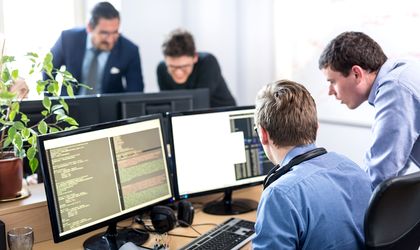 Romania's IT&C services exports reached a record value of EUR 4.5 billion in 2018, a 15 percent growth compared to 2017, according to data from the National Bank of Romania (BNR). Their value exceeded that of the agriculture sectors, where exports are worth EUR 4 billion, ZF.ro reports.
The IT&C sector in Romania employs 183,000 people. Compared to five years ago, the sector's exports have doubled, the data show. The international trade surplus for IT&C services reached EUR 2.5 billion in 2018, a 22 percent growth compared to the previous year and twice as big as the value recorded in 2014.
The IT&C sector is the second largest category of services export in Romania after transport services, accounting for about 20 percent of the total of EUR 22 billion in services exported by the country in 2018.
The main factors that have led to this development were the high skills of Romanian programmers, their foreign language proficiency, the state help provided for this sector and the salaries that are smaller than those in other European states.
"The Romanian technology sector has only one option: to grow. Our external competitiveness is a measure of success and it must be directed towards high added value areas. We want as big a part as possible of our success on external market to be materialized locally and lead to an accelerated digitalization of Romania. Our country must benefit from the high-tech not just through its contribution to the trade balance, but especially by using the tech sector as a driver of growth of Romania's competitiveness and transforming into a regional innovation hub," said Gabriela Mechea, the executive director of the Software and Services Industry Business Owners' Association (ANIS).
In 2017, IT&C services generated 5.2 percent of Romania's GDP with less than 200,000 employees, compared to agriculture's contribution of 4.3 percent of GDP while employing around 2 million people.