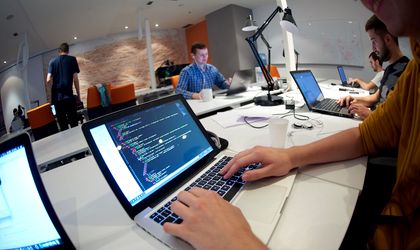 A new study by ANIS, the Romanian Employers'​ Association of the Software and Services Industry, found that the local IT market will reach a volume of EUR 5.9 billion by the end of 2019, with around 78% of this figure consisting of exports, announces ECONOMICA.NET.
A constant growth in the past few years was recorded in the market's volume, around EUR 500 million each year. ANIS estimates a market volume of EUR 5.9 billion, of which EUR 4.8 billion is in the software and services segment, while EUR 1.1 billion is represented by other IT activities. It's estimated that by 2022 the market volume of IT will reach EUR 7.3 billion, meaning a 25% yearly growth rate.
Large companies with over 250 employees generate almost half of the total income – EUR 2.7 billion, while medium companies (50-249 employees) bring another EUR 1.2 billion. Small companies (under 50 employees) contribute with a significant EUR 2.1 billion, 35% of the total market volume.
Another interesting stat shows how companies with foreign capital, which only make 10% of the total number of IT companies active in Romania, generate 73% of the market volume and have a sustained growth rate, around 12% per year. Romanian capital only generates 27% of the market volume and for the past 3 years IT companies with Romanian capital have been more sluggish in their growth rate.
In terms of geography, Bucharest brings in 63% of the volume, the North-West region with the city of Cluj-Napoca, another hotspot of Romanian IT, has a share of 18%, while Central, West and North-East regions chip in with around 5-6% each.
Exports are also rising from 65% in 2017 and 72% in 2018 to 78% in 2019, meaning that IT services make up almost 20% of Romania's total export volume. The growth of the IT industry is also reflected in the employee number, which is raising at an average rate of 10% per year, but experts say that IT specialists are still in high demand, so their numbers will continue to grow.