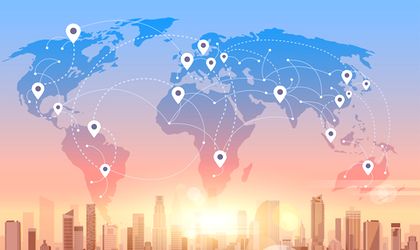 Romania has dropped significantly in a ranking of internet speeds around the world in 2019, going from fifth to 37th, with a download speed of 21.8 Mbps, according to a study by cable.co.uk.
In 2018, the average download speed in Romania was 38.6 Mbps, while in 2017 it reached 21.33 Mbps.
Among Romania's neigbours, Hungary is the only country with a higher internet speed, ranking 20th in the world, with 31.1 Mbps. Bulgaria is 49th (16.95 Mbps), Moldova ranks 60th (11.56 Mbps), Ukraine is 81st (7.72 Mbps), while Serbia is 43rd with 18.17 Mbps.
The study found that Europe has the highest concentration of countries with high-speed or bandwidth internet. Of the 54 European countries analysed, all of them with the exception of Armenia (4.85 Mbps) ranked among the global top 100, while 37 of these countries ranked among the top 50 globally. The first place in Europe goes to Jersey, a British Crown dependency near the coast of Normandy, France, with a 67.46 Mbps speed.
Average global internet speed has increased from 9.14 Mbps in 2018 to 11.03 Mbps in 2019, a 20.6 percent advance.
"The global picture seems to be rosy, but the truth is that faster countries are taking up the average, while the slow ones are stagnating. Last year, the five slowest countries were 88 times slower than the first five. This year, they were 125 times slower," said Dan Howdle, an analyst at Cable.
Globally, the first place went to Taiwan, with 85.02 Mbps, while Yemen ranked last with only 0.38 Mbps (224 times slower than Taiwan). In second place was Singapore, followed by Jersey, Sweden, Denmark, Japan and Luxembourg.
141 countries could not reach average speeds of over 10 Mbps, seen by specialists as the minimum speed required by a typical family or small business.