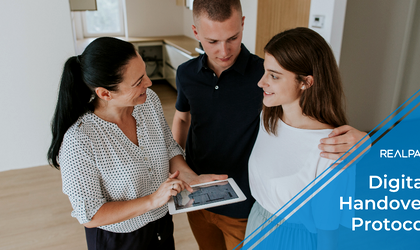 Realpad, a technology provider of software for more than 70 residential developers, has completed a project to digitize the entire apartment delivery process, a solution quickly adopted by several customers in other European markets.
One of the Romanian developers that uses Realpad is Forty Management, a company that has just finalized the Central District 4 Elemente project, an internationally awarded mixed-use project that includes 204 apartments and 1,700 sq m of retail area.
"The main reason why we wanted to take this significant step in the digitization of the handover process was its time-consuming nature. It required us to print several copies, their subsequent scanning and forwarding between different departments, and there were errors in rewriting documents. Without digitization it is difficult to have data in order and use it efficiently", says Ana Hogea, Sales Director at Forty Management.
The entire handover process of apartments was done completely digitally – customers booked the date of technical inspection and handover through the customer portal and the handover protocol was created directly on the site using tablets and digital signatures.
No paper or complications
The complicated process of handing over housing units is managed by all developers. So far, the vast majority of practice in the field is based on the use of paper protocols in several copies.
"Despite the claims of many technology companies, we perceive that innovative ideas in the field of residential development don't solely come from Western countries but also from Central and Eastern Europe. After the successful pivotal project in Czechia we have adjusted the product to the Romanian market and our cooperation with Forty & Management has proven two things. First, there is definitely a need for technology solutions in residential development. Second, we are a reliable partner which can deliver these solutions", explains Jakub Licak, Business Development Manager at Realpad.
Lower Error Rate and Timesaving
Forty Management used Realpad's digital handover functionality for the Central District 4 Elemente project.
Without digital handover, contract generation, handover protocols, and the warranty claim management module, it would be difficult to manage everything. In the past, the time capacity of our employees would simply not be enough without the effective use of digital technologies," continues Ana Hogea. "The whole process has been sped up – filling in the protocol is about four times faster due to error minimization, signing is happening only once. Also, the digital solution contributed to better information not only within the team but also towards third parties, such as banks. It is also essential to connect documents with our customer portal, where the buyer has everything in one place in digital form. Last but not least, there was 100% savings in paper consumption," adds Ana Hogea.
Shortly after the successful completion of the pilot project, Realpad recorded demand from other residential developers. The company entered the Romanian market last autumn and in the meantime attracted new clients in Bucharest.
Realpad clients in 2021
Along with AFI Europe, which uses Realpad services also in Czechia, the list of Romanian companies that use Realpad includes:
Hagag Development Europe, which develops residential projects such as H Pipera Lake, H Victoriei 139 or Eliade 9, but also commercial projects.
Liebrecht & wooD România, part of Liebrecht & wood Group, one of the largest real estate developers in Europe, with a portfolio that includes Liziera de Lac, the most ambitious residential project in SE Bucharest, West Park Retail Miliari with Fashion House Outlet Center Militari and Fashion House Outlet Center Pallady in development.
SVN Romania, one of the largest real estate consultants active in the local market and the leader in the residential segment.
Arbo Residence, Realpad is also being implemented in the residential project in Mogosoaia.
Realpad is a technology partner of European real estate developers. Since establishing in 2012, the team behind Realpad has specialized in developing sophisticated and user-friendly digital products, that help developers automate sales processes, deepen customer relationships and, last but not least, sell and rent real estate smoothly and efficiently. Realpad is a digital ecosystem encompassing a cloud CRM, a sales tablet application, a customer portal, a financial module for costs management, and a defect management tool for the construction side.
From its Prague headquarters, Realpad has so far found its way to more than 70 clients in 12 European countries.