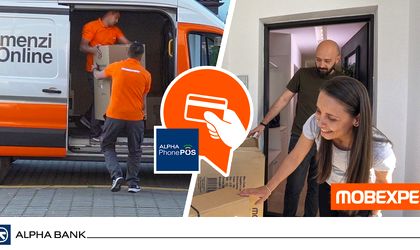 Alpha Bank Romania and Mobexpert expand their existing partnership, the bank making available to the largest Romanian retailer of furniture and decorations the application Alpha PhonePOS, the most advanced payment solution available on the market (Tap to Phone).
Through this new technology, Mobexpert customers who place an order online that will be delivered with the retailer's own fleet, will be able to pay the value of the order upon delivery, using debit or credit card, or other devices equipped with NFC technology, such as the phone, watch or smart bracelet.
"We like to stay permanently connected with our customers and we want to make their shopping experience as pleasant and easy as possible, but also in conditions of maximum security. Therefore, this year we introduced the new card payment service for the delivery of orders placed on mobexpert.ro, together with Alpha Bank. It was a service that was missing, and now Mobexpert customers can pay a refund both in cash and by card at the time of delivery. Our partner Alpha Bank has come up with this innovative mobile payment service that is extremely secure and has also improved the work of our delivery and assembly teams." says Adelina Badea, CEO of Mobexpert.
The application is available nationwide for the entire own delivery fleet, so Mobexpert customers will have access to a flexible way to make payments securely, in line with industry standards for contactless transactions, similar to a classic POS terminal and ensuring fast processing and access to payment history.
"We are pleased that our long-term partnership with Mobexpert is expanding through the implementation of innovative technology. The Alpha PhonePOS solution has been developed to cover specific requirements from merchants for whom mobility is essential. Mobexpert is one of the strongest Romanian brands, constantly concerned with improving the experience of its customers and we are honored to be able to contribute to achieving its objectives in the area of digital transformation, "said Cristian Dragoș, Executive Vice President Retail.