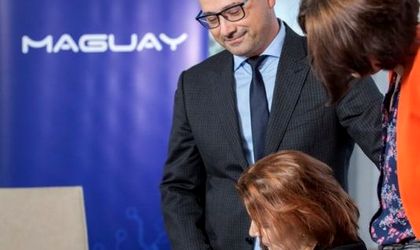 In 1992 Eduard Pughin and his family started an IT business. Based on background knowledge and passion, Maguay company started importing IT equipment, mainly monitors from producers like Targa, CTX and Iiyama, and professional graphic cards. "It was the area in which we could see a future and we felt like we could make good business. At the time, there were no Romanian PC production companies", said Eduard Pughin, the creator of Maguay. Even today, there are only a handful of IT&C producers, like Allview, Eboda, Evolio or Altex's Complet Electro Serv.
By Aurel Dragan
Later on, the company started building PC systems (personal computer), servers, storage systems and notebooks. They also signed partnerships with big names, like Intel, Oracle, Fortinet, VMWare, Microsoft etc., certifying that all the products were of the highest quality. This allowed releasing systems that were at the same level of performance with international competitors, thus building the Maguay brand. "We wanted to make high quality and competitive products, unbeatable in terms of cost versus performance and also in total cost of ownership (TCO). More than that, we don't have the restrictions that come with international brands products for components that are non-standard", explains Eduard Pughin, Operations Manager at Maguay.
Growing slowly but surely, Maguay managed to get over the financial crisis by diversifying and investing in software, ending up as an integrated IT systems producer.
"Last year we had over EUR 20 million revenues, with a small growth from the year before. Considering that most of the IT investments were frozen in 2017, we take that it is a positive outcome", explains Eduard Pughin. Nowdays, having the headquarters in Bucharest, Maguay employs over 100 people and it is facing the same problem as the rest of the industry: lack of professionals available. "What it is also concerning is the lowering level of general knowledge for broader utility in the industry. Over-qualifying on niche domains is a mistake because it lacks the essential capacity of being able to adapt", explains Eduard Pughin.
Supplier for CERN
One of the problems that all Romanian companies have is expanding outside the borders. Maguay is no different, until they managed to become supplier for European Organization for Nuclear Research (CERN), in a EUR 3.5 million project, won in 2017. The company will provide a grid system with HPC (High Performance Computing) servers, based on 516 Maguay eXpertServer (with over 1,000 Intel Xeon Gold 6130 processors).
"Winning this project is a confirmation of our capabilities and we are among the very few Romanian suppliers for CERN", says Eduard Pughin. According to IDC data, Maguay is the biggest Romanian producer of servers and in top 5 sellers, right after the big global producers. The company is also one of the best alternatives for data storage solutions, offering 'software defined storage', based on Maguay servers.
Building the software division, Maguay was able to create a range of services and solutions, like e-Learning for private companies, fleet management with iTrack, SMART Transportation or solutions for the health system, like Qcare – Patient Data Management System. Along the years, the company received many awards from corporations like Intel and Microsoft, and also from The Romanian Chamber of Commerce and ANEIR (The National Romanian Association of Importers and Exporters).