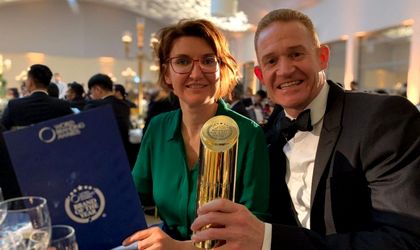 Kaspersky brand has been recognized with a prestigious Red Dot Award in the Brands & Communication Design 2020 category, which honors the best brands and creative works of the year. By winning over the Red Dot jury, the global cybersecurity company has proven that its brand stands for high design quality and integrated brand management.
In 2020, a total of 6,992 creative projects and brands from 50 countries entered the Red Dot competition. Tasked with selecting and honoring brands that had demonstrated sentiment "in search of good design and creativity", the 24 international jurors assessed the entries online with special attention given to the concept, idea and impact. Ultimately, those that convinced the experts that their design was of high quality and creative achievement received a distinction.
"We're honored and proud to be among the winners of one the world's most respected design competitions. The fact that Kaspersky has been awarded in the Brands & Communication Design category a year after rebranding is an important recognition of what the company has done and is continuing to do. Kaspersky has greatly reshaped its brand, visual identity and communications, reflecting the evolution of the company's business focus from cybersecurity towards the wider concept of cyber-immunity, as well as our new mission – building a safer world," comments Andrew Winton, Vice President, Marketing at Kaspersky.
Kaspersky conducted the rebrand in June 2019, introducing a new logo and visual identity and bringing a new philosophy of digital security for a brighter tomorrow. The new branding reflects the company's vision of the future and its approach to business. Kaspersky is now moving beyond the anti-virus laboratory and becoming a technological leader with an advanced and comprehensive portfolio of security solutions and services. Kaspersky's new brand was also recognized when it received the Brand of the Year award in the Anti-virus Software category at the World Branding Awards in November 2019.
This latest award is not the first time Kaspersky has won a Red Dot prize – in 2017 the company's interactive online platform Earth 2050, which provides a futuristic image of what the world will look like in 30 years' time, was awarded the Red Dot Best of the Best award. In 2015, Kaspersky's interactive learning site One Dollar Lesson, that demonstrated basic principles of online security using the example of a one dollar virtual journey, got a Red Dot Award in the Communication Design/Website category.
The winning submissions from the Red Dot Awards 2020 will be made publicly available online on the Red Dot website from October 2020. The International Yearbook Brands & Communication Design 2020/2021 will be released in November 2020. In addition, the Kaspersky brand will be showcased in various exhibitions, giving all those interested the opportunity to see the brand's quality for themselves.
Read more information about the Kaspersky brand here.
Photo: Andrew Winton, Vice President, Marketing at Kaspersky, after winning Brand of the Year at the World Branding Awards (https://www.kaspersky.com/)