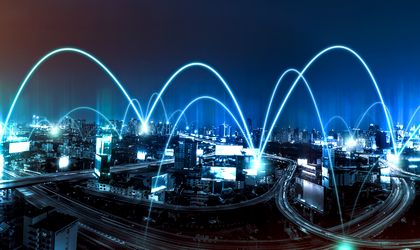 In the next five years, over 400,000 new jobs will be created in Romania's IT&C industry, doubling the current number. The development of technical and digital skills must accelerate to meet the demand for specialists and to sustain the country's economic development, but neither universities nor companies have the capacity to respond to the needs of the future, said Daniel Rusen, Marketing and Operations Director at Microsoft Romania, at Business Review's Foreign Investors Summit in late October.
By Aurel Constantin
Rusen noted that a global study conducted by Microsoft and LinkedIn this summer found that in the next five years, around 150 million new jobs will appear as a result of accelerated digitalization. Of these, 1 million will be in the area of data privacy, 6 million in cybersecurity, 20 million in data analysis, machine learning, and artificial intelligence, 23 million in cloud and data roles, and 98 million in software development.
"This is good news, but the bad news is that we need qualified people to fill these jobs. For Romania specifically, this means around 645,000 jobs will be created around new technology. If you think about the Romanian workforce, we have around 200-250,000 people who are currently qualified to hold advanced technical jobs – developers, data analysts, cybersecurity experts, and others – within the next five years this number will reach 1 million," Rusen said.
"This pandemic has shown connectivity to be one of the most important aspects of economic continuity. The period has highlighted the strengths and weaknesses of networks, which have proven resilient to the migration of employees from company offices to working from home. Romania has very good broadband and mobile networks," said Dragos Mircea Rebegea, Country Manager at Ericsson Romania and Head of Sales for Romania and Moldova, adding that the future will bring networks with even better speeds.
All the members of this telecommunication ecosystem are starting to discuss the implementation of software that goes beyond classic functionalities, reaching industrial, B2B or B2B2C applications. There is also a need for communication between remote devices, not just between people. "Traffic is booming anyway, it's not only because of the pandemic. In recent years it has grown by 50 percent each year and it is estimated to increase fourfold over the next five years," Rebegea noted. "This means that we will need more storage infrastructure, as well as more secure and faster connectivity. These are the challenges faced by network service and equipment providers," he explained.
New jobs are emerging in technology development, including at Ericsson, a company that only made hardware for 120 years and recently started making software as well. The special situation generated by the pandemic has shown that the solutions offered by connectivity, in terms of both hardware and software applications, are the most appreciated and most desired by people working from home. Moreover, people are willing to invest in better connectivity when they need it.
As data traffic continues to increase, investments will be needed to maintain networks at capacity. A lesser known fact about Ericsson is that it has a factory in Timisoara that produces 5G network equipment, in a unit with 1,400 people. "That's why Romania is very important for us. The resilience of the supply chain is also important in order to no longer be dependent on a certain geographical region," Rebegea said. In the second quarter of 2020, 16 countries in the EU launched their 5G commercial networks. Currently, 5G population coverage reaches an average of 27 percent in the EU, with Romania's at 33 percent. "It may be a surprise, but Romania is doing very well, even if we are now very late with the implementation of 5G technology," the Ericsson manager explained.