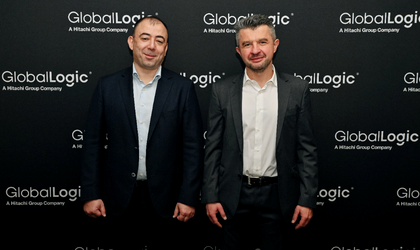 GlobalLogic, a Hitachi Group Company and digital engineering leader, is expanding its presence in the Romanian market through organic growth in addition to the acquisition of Fortech Cluj. The expansion is part of the company's European growth plan where Romania will play an important role ahead. GlobalLogic expects to grow with a local team by up to 25%, the main sources of growth being generated by attracting clients in the medical, automotive, industrial and telco industries.
GlobalLogic has been considering entering Romania for several years, attracted by the talent in the area of IT development – engineers/developers, testers, architects, UX/UI designers – with the required language knowledge and domain expertise.
Igor Byeda, Group Vice President and Head of GlobalLogic Europe, says "We have had our eyes on Romania for a while now, admiring the talent pool of around 200,000 IT specialists. With a strong expertise in Engineering services, we see a lot of potential to quickly boost GlobalLogic among the top IT players not only in the country, but across the region. We are very excited about the opportunities we see ahead and we're eager to transform them into both business growth and a positive impact in the communities we are becoming part of."
When GlobalLogic announced the acquisition of Fortech, one of the objectives of the investment was, as part of a multi-year strategy, to establish a wider European footprint while also implementing it to better serve its customers worldwide from a delivery perspective. The joint path opens new perspectives for Fortech's team and clients while continuing to further grow GlobalLogic's already successful presence in Europe.
For the last two decades, Fortech has evolved organically into an expert community of 1150+ engineers distributed over 4 delivery centers across Romania and has forged ties with a national network of IT talent. With a client-centric mindset as the bedrock of its identity, the company has been growing in prominence among technology services providers in CEE, becoming a trusted choice for SMEs and blue-chip companies in Europe, as well as internationally. With the guidance of its CEO & co-founder, Călin Văduva, Fortech is today part of Romania's largest and most in-demand companies in technology.
"Over the past few years, Fortech has experienced steady growth, which has turned us into one of the largest Romanian-owned companies. While we are proud of this achievement, we also realized that expanding beyond our borders is essential for continued success. After much consideration, we found that GlobalLogic was the ideal partner for our global development. We share with them not only a common vision for Romania, but also core values and culture. By joining GlobalLogic, a Hitachi Group company, we have opened exciting new opportunities for growth for our team and expanded service capabilities for our customers."
Throughout the years, international tech brands have dominated the business field, but Fortech has remained one of the few that could keep up the rhythm and standards set by the big tech players.
Fortech, a GlobalLogic company, was recently included in the 2023 Global Outsourcing 100® list, an annual ranking of the world's best outsourcing service providers. This is the second time the company has been featured on IAOP's Global Outsourcing 100® list and the first time it secured a listing as a "Leader".
Everything in the world runs on digital technology; from the moment we wake up to the moment we go to sleep, we interact with technologies that complement our day-to-day lives and that help in making the world a better place. These interactions are created using software, which makes engineers real-life magicians, having the power to innovate and help create a better future not only for people, but for the planet. The engineers at GlobalLogic create such technologies, and many of today's interactions are created with software developed by them.
For Fortech and GlobalLogic, the joint path means joint talent and business growth. In the future, the team wants to employ people from all over IT, which includes developers, testers – manual & automated, business analysts, data scientist, PMs and UX&UI. They are looking for talent from all over the cities in Romania – like Bucharest, Cluj-Napoca, Oradea, Iasi, Brasov – and potential expansion to other regions, for instance, Timisoara.
GlobalLogic is happy to welcome the existing Fortech team and to share together all the opportunities that will now follow from being part of the Hitachi family. The business in Romania is to cover a mix of projects with engineers across all the countries where GlobalLogic operates, whilst it synergises with existing Fortech and GlobalLogic clients, which will be beneficial for both parties. The industries in focus are the 4 domain verticals of GlobalLogic: medical, automotive, industrial and telecommunications.
So, for GlobalLogic & Fortech the path ahead, the life purpose as a whole, is to leave a legacy. The arrival of GlobalLogic to Romania, as well as the joint path with Fortech further ahead, gives local developers the ability to impact people's lives directly, and at the same time, the freedom to grow at their job.
Fortech, a GlobalLogic company, is a top provider of software services headquartered in Cluj-Napoca, Romania. The company covers the end-to-end development of a software product for clients in the Automotive, Manufacturing, eCommerce, Healthcare, Professional Services, Media and Communication, industries. Its approach to software engineering combines strong technology and process know-how, Agile delivery methods with predictable costs, and a blend of code quality practices and metrics refined over two decades.
GlobalLogic is a leader in digital engineering. We help brands across the globe design and build innovative products, platforms, and digital experiences for the modern world. By integrating experience design, complex engineering, and data expertise—we help our clients imagine what's possible, and accelerate their transition into tomorrow's digital businesses. Headquartered in Silicon Valley, GlobalLogic operates design studios and engineering centers around the world, extending our deep expertise to customers in the automotive, communications, financial services, healthcare and life sciences, manufacturing, media and entertainment, semiconductor, and technology industries. GlobalLogic is a Hitachi Group Company operating under Hitachi, Ltd. (TSE: 6501) which contributes to a sustainable society with a higher quality of life by driving innovation through data and technology as the Social Innovation Business.