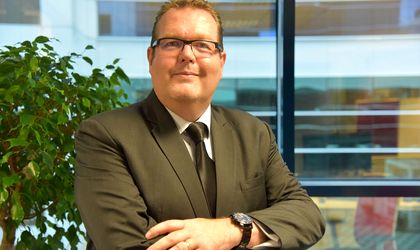 Ten years after its establishment in Romania, Societe Generale European Business Services (Societe Generale EBS) becomes Societe Generale Global Solution Centre. 'European Business Services' was more than a name; it was a statement of the company's positioning as a valuable partner for Societe Generale Group in its European operations and a vote of trust for its expertise and potential.
Year by year, the company has grown into a mature, reliable partner. Building on the team's expertise, the company managed to create more and more services, with each new business line developed.
Its efforts, hard work and commitment were invested into laying the foundation for the future – one that can only reach its full potential when amplified to a global scale. In 2021, the company is ready to reach a new important milestone in its history and, once again, is taking a step further into the future.
Societe Generale Global Solution Centre is breaking geographical borders, celebrating cultural differences and continuously improving its services and operating model while expanding its impact: from European to Global.
Being global means better opportunities for learning and expanding the quality of services, for both the company and its employees and, even more, facing new challenges, on an international scale. Also, it means bringing together different cultures, expanding the horizons and transforming the company's diversity into a key asset for partners and teams across 5 continents.
"Our evolution, during the years, has shown us that together, as a team, we can become a trusted partner, building together a better and sustainable future through responsible and innovative IT & financial solutions. All of these have been possible with the help, dedication and great skills of our colleagues. From now on, they will have the chance and opportunity to develop, both professionally and personally, even to a much greater extent than before. Therefore, this new stage in the existence of our company stands for development opportunities on all levels, but also for a better internal cohesion, and all of these will be reflected in the quality of our services from now on," said Matthieu Pasquier, CEO of Societe Generale GSC in Romania.
With great milestones achieved in the past, a strong vision for the future and one united team, a new journey filled with opportunities and challenges on the global markets awaits.
Societe Generale Global Solution Centre
In Romania, Societe Generale European Business Services (now, Societe Generale Global Solution Centre) was founded in 2011 as a service center for the Societe Generale Group. The company provides high-quality professional services in various fields of activity to Group entities around the world (finance & accounting, human resources, IT, Know Your Customer, compliance and Business Advisory Unit).
Societe Generale Global Solution Centre means performance, innovation and the best professionals. Now Societe Generale Global Solution Centre is a service center for many Group entities, serving 35 countries for all of Societe Generale's major business lines.