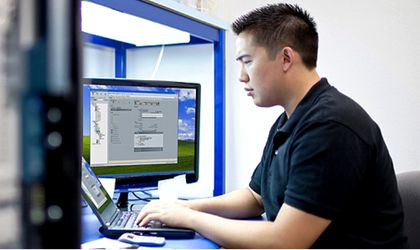 At CiscoLive! Digital, the virtual event attended by over 100,000 customers, partners and members of the public, Cisco announced a new portfolio of solutions focused on business resiliency. In this uncertain world, keeping businesses up and running has become a major focus for business leaders. According to CFO's surveyed in the fifth PwC COVID-19 CFO Pulse Survey,  organizations' highest focus is on changing workplace safety measures and requirements (87 percent) as they transition back to the workplace. In addition, close to half of all CFO's say their companies will make remote work a permanent option for roles that allow it. Cisco's new portfolio addresses both these key challenges head-on; the need to enable a secure remote workforce and the requirement to support a trusted workplace.  
As organizations grappled with their initial response to the pandemic, many embraced solutions focused on business continuity, working with Cisco Customer Experience (CX) and Cisco partners to keep their organization running and productive, at speed and scale. In the next phase of response to the pandemic and in preparation for future events, CIOs, IT and operations leaders are focused on implementing an IT environment that will adapt and learn from the lessons of the past few months. A majority (72%) of CFO respondents to the PwC survey expected greater resilience and agility to be byproducts of the pandemic experience, along with 49 percent saying their technology investments they are making during this time will position them better for the long term.
"Over the past several months we've seen major disruption to many industries and organizations at a pace like never before. Businesses that once mapped digital strategy in one to three-year periods have been required to scale their initiatives essentially overnight," said Chuck Robbins, Chairman and CEO, Cisco. "Cisco's new business resiliency portfolio will help customers reevaluate their business strategies and implement solutions more quickly and easily than ever before."
Developed from Cisco's experience of supporting thousands of customers through the COVID-19 pandemic to date, the business resiliency portfolio offers industry solutions including healthcare and education, simpler consumption models and services to accelerate impact for customers. The portfolio will continue to expand to cover areas such as social distancing in the workplace, effective virtual employee engagement at scale and pop-up connected clinics. Highlights of the new portfolio are listed below:
Industry solutions
Healthcare and Education organizations found their operations immediately disrupted during this pandemic. With Cisco's support, within days, many were able to turn on distance learning, or to transition to virtual administration and ramp telehealth visits quickly. Cisco continues to support their resiliency and transformation. New solutions for these industries include:
Distance learning – secure collaboration technology and expertise to keep the 1.2 billion children and young people currently learning outside of their usual environment, connected and learning worldwide. This solution is being used by organizations such as Babson College in Boston MA.
Temporary Connected Field Hospital – a packaged IT infrastructure kit that can be set up and operational in 5 days or less to support hospital surges or to provide a temporary facility. The solution includes wireless networking technology to access data, voice and video, integrated network security and deployment guidance and support. This solution was developed based on Cisco and our partners experience supporting temporary hospitals such as the NHS Nightingale field hospital in the U.K. and at University of Maryland Medical System in the U.S.
"Babson College's trusted relationship with Cisco – leveraging its networking equipment as well as its safe and reliable Webex and Teams platforms – enabled us to quickly transition all 650 courses plus 100% of our students, faculty, and staff to fully online." Said Dr. Phil Knutel, Vice President and Chief Information Officer of Babson College
Secure Remote Workforce Solutions
Customers turned to Cisco during the pandemic to enable workforce productivity with secure, scalable, solutions. These are now available as packaged solutions to support organizations as they discover more about what enhancements are needed to their initial approach, including:
Remote Contact Center – technology and deployment services that enable contact center agents to work from home using either cloud solutions or provide secure remote access to their existing on-premise technology
Flexible Remote Access – expertise and technology to enable employees to access the network, collaboration endpoints, and business applications. The portfolio offers a variety of products and services to meet customer needs, including those that opt for hardware, software, or bring-your-own device solutions.
Secure Remote Worker – enable security for remote access at scale with tools to analyze current VPN capacity, determine an implementation plan with Cisco Security technology, and work on planning, design, and configuration of a VPN network to help securely manage remote employee access.
Trusted Workplace Solutions
Organizations are grappling with their journey to the next normal, including how to facilitate a safe "return to office", and power new business models and modes of work that support requirements for employee and customer safety. Cisco will support this transition with solutions such as:
Virtual Visitation for Correctional Facilities –secure video collaboration software and hardware that integrates with inmate management systems and allows for virtual visitations with family, counsellors, health providers and attorneys. Cisco can enable upgrades to supporting infrastructure such as datacenters and networking equipment, security, and training/onboarding for users. Virtual visitation allows institutions to improve wellbeing, increase access and reduce risk.
Remote Office Connectivity– Extend a corporate network to adjacent and remote locations that meet user demands for more bandwidth, faster connectivity, and higher security. Services and technology help customers design, build, and operate a Wireless LAN solution that gives users secure access to business applications with a secure and reliable wireless experience.
Social Density Monitoring and Insights– Expertise and technology to support social distancing in the workplace. Built on Cisco's DNA Spaces and leveraging wireless infrastructure, this solution will provide behavioral insights from across locations, allowing organizations to make decisions to promote workplace safety. Available from July.