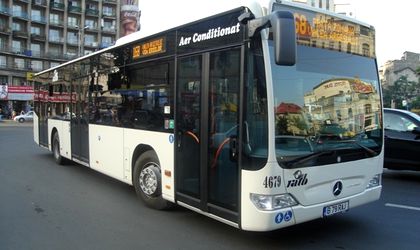 RATB, the public transport company in Bucharest, says it will develop an app by the end of the year that will tell travellers the exact times when buses will arrive, as well as the best route to take to reach their destination. The City Hall will spend RON 900,000 on developing the app, according to Digi24.
People using public transport in Bucharest have long complained about not knowing when a bus or a tram will arrive at a stop, as not only is there no app to show this information – there are also no screens installed in any bus stops to indicate when the next bus will arrive. In theory, RATB's vehicles follow a certain schedule, but with the unpredictable traffic in the city it is generally impossible for them to stick to it.
Another large Romanian city, Cluj-Napoca, has had such a system for several years, and travellers say it's actually very useful. The city has both an app and panels in each station. Furthermore, Cluj's bus stops all have automated ticket machines and passengers can also pay for several types of tickets via SMS. In Bucharest, on the other hand, there are many bus stops where you cannot buy a ticket and the SMS system only works for one type of ticket that is valid for an entire day.